Veterans Day 2002
November 11th

Ketchikan: Veterans Day

View the Photo Gallery

The United States Coast Guard's Color Guard led the march to Centennial Square where Monday morning's Veterans Day ceremony was held....
Monday - November 11, 2002 - 2:30 pm

Photo by Dick Kauffman
"Class Shot"
Chilkat Weaving with Evelyn Vanderhoop
photo courtesy Ketchikan Museums

Click on the photo to
view a the photo essay...

Front Page Photo - Thursday
October 24, 2002


The Totem Heritage Center held an Intermediate/Advanced Chilkat Weaving class October 5 - 17, 2002. The students posing with their pieces are (from left) Angel Williams, Mary Mann, Debbie McLavey, Evelyn Garnett, Instructor Evelyn Vanderhoop, Bonne Wolstad, Lorraine Kahle, Carrie Vanderhoop, Eliasica Timmerman and Dolly Garza. Linda Schrack kneels in front.

To view the Photo Essay
click on this link or the photo....
'Man's Best Friend'

photo essay

Nanna waits patiently at Sallee's sawmill for lumber to be loaded.
Click on the photo or
this link to view more photos...

Front Page photo - Sunday -
September 29, 2002

Photo by Chris Wilhelm
Introduction To Power Tools - Photo Essay

Hugh Hartley uses a band saw at the Totem Heritage Center during Introduction to Power Tools, September 16 - 18, 2002. The class, taught by Paul Potter, showed students how to safely use common shop tools while making a model canoe paddle.
Click On This Link or Photo To View More Photos...
Photo Courtesy of Ketchikan Museums
Ketchikan: 'First Peoples of the Tongass' - Photo Feature - Tongass Centennial - Celebrating 100 Years...
Monday - August 19, 2002 - 12:30 am

Photos & Movie Clips
by Gigi Pilcher

---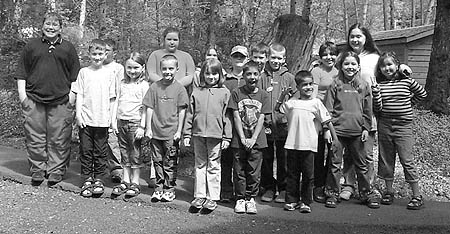 "Group of Culture Camp Kids" - Photo Feature
Click on photo to view photo gallery....
A group shot of (most of) the participants in
Children's Southeast Alaska Native Culture Week.
Front row (left to right): Collin Borkowski, Anna Borkowski, Nick Bradley,
Maddy Stephens, Gabe Potts, Jacob Potts, Jodi Gatti, Pauline Morse.
Back row (left to right): Zach Nebl, Ellis Miller, Chrystina Jacobson,
Isabel Stephens, Ethan Howard, Jared Ellis, Danny St. John,
Erin Pentland, and Crystal Mann (teen helper).
Tuesday - June 25, 2002 - 1:10 pm
---
Photo and Audio Feature:

Ketchikan: Memorial Day 2002 - Photo Gallery & Audio Feature...
May 27, 2002 - Monday - 11:30 pm

---

Senator Frank Murkowski pays tribute to the service men and women who have bravely served our great nation....
photo by Dick Kauffman
The Salmon Derby kicked off Saturday at 7 am. Derby Days are May 25, 26, 27 and June 1, 2, 8, and 9. Weigh-in stations are located at Mountain Point, Bar Harbor and Knudson Cove. For more information about the 55th King Salmon Derby, click on this link to visit the Derby's Official Web Site.

---

Knudson Cove Marina: Louise Pattison weighed in a 50.5 pound King Salmon this evening. Fishing from 4pm - 8pm Pattison said she caught this King at 8pm. Pattison won the Little League Derby in 1993...
Saturday - May 25, 2002 - 10:20 pm
Digital photo by Dick Kauffman

King Salmon
Derby Days 2002

Photo Feature: Photo Gallery...
The Wizard of Oz
Opens Friday - May 24, 2002

Photo by Gigi Pilcher

Photo Feature

Ketchikan: Full-Dress Rehearsal Photo Feature of The Wizard of Oz


Cowardly Lion - Andy Dupre
Scarecrow - Alex Ortiz
Tin Woodman - Stephanie Woodruff
Dorothy - Erika Van Slyke
Toto as Himself

Click on the photo for more information and to view the photo gallery...
May 24, 2002 - Friday - 12:30 am
Photo & Movie Feature

School Bus
Rodeo Queen Crowned
Photo & Movie Feature
by Dick Kauffman

Ketchikan - School Bus Rodeo Queen 2002 Crowned - Laidlaw School Bus Rodeo April 27th - Photo & Movie Feature...
Wednesday - May 15, 2002 - 12:30 am
Story & Photo Feature

Ketchikan: "Meet Your Judges" and Law Day Event Held In Ketchikan...
Thursday - May 02, 2002 - 12:45 am

Chief Justice of the Alaska Supreme Court Dana Fabe takes the witness stand in the mock trial of Goldilocks & The Three Bears

Digital photo by Gigi Pilcher
Photo Feature

Take Me Out To The Ball Game
Digital Photo
by Gigi Pilcher

Ketchikan: Little Leagues Hold Opening Ceremony Saturday - More Photos...
Monday - April 29, 2002 - 12:15 am
Movie

Ketchikan:
Hummingbird Festival

Hummingbird Movie
Ketchikan, AK - 04/20/02
Digital photo & movie by Mary Kauffman

Ketchikan - The Last Great Race - Photos by Ketchikan residents Noah Cloud & Margaret Cloud....
Sitnews - Wednesday - March 6, 2002 - 11:20 am


Ketchikan - Quilting In The Rain XI - The 11th Annual Show Presented by The Ketchikan Rainy Day Quilters - Story, Photos & Slide Show....
Download a free QuickTime player - PCs & Macs
Sitnews -Tuesday - March 5, 2002 - 11:45 am

Ketchikan - Ketchikan Celebrates Elizabeth Peratrovich Day - Story, photos, movie of parade & audio clip of Tlingit National Anthem...
Download a free QuickTime player- PCs & Macs
Sitnews - Monday - Feb. 18, 2002 - 9:10 pm

Ketchikan - King Crab Sighted in Wearable Art & Fashion Show...
Sitnews - Tuesday, February 05, 2002 - 1:30 pm

Ketchikan - Ketchikan Welcomes The New M/V 'Prince of Wales' Ferry - Story with Slide Show...
Download a free QuickTime player - PCs & Macs
Sitnews - Sunday, December 30, 2001 - 12:30 am

Canada - Fall Photos From Canada - by Susan McMurray....
Sitnews, Web posted: Saturday, October 06, 2001 - 1:30 pm

Ketchikan - Asset Builders: Community Asset Builders Honored "...Real heroes in the community of Ketchikan" - Story and photos...
Sitnews, Web posted: Wednesday, September 5, 2001 - 12:05 am

Ketchikan - Downtown Ketchikan - Part 2 ...
Download a free QuickTime player - PCs & Macs...
Sitnews, Web posted: Saturday, August 25, 2001 - 10:45 pm

Ketchikan -Story, Photos with Music: Creek Street - Downtown
Ketchikan Part 1...
Download a free QuickTime player - PCs & Macs....
Sitnews, Web posted: Saturday, August 25, 2001 - 6:00 pm

Ketchikan -Story and Photos with Music - Rainbird Trail...
Digital photos by Gigi Pilcher, web design by Sitnews -
Download a free QuickTime player- PCs & Macs
Sitnews, Web posted: Monday, August 13, 2001 - 10:30 pm

Ketchikan -Photos with Music Feature - Bar Harbor Blues...
Digital Photos by Gigi Pilcher, design by Sitnews -
Download a free QuickTime player- PCs & Macs
Sitnews, Web posted: Tuesday, July 31, 2001 - 11:45 pm

Ketchikan - Photo Feature - A Stroll Around Ketchikan On A Beautiful Summer Day...
Sitnews, Web posted: Sunday, July 22, 2001 - 12:45 am

Ketchikan - North Views - Ketchikan, Alaska - Photos w/Music...
Digital photos by Gigi Pilcher, web design by Sitnews -
Download a free QuickTime player- PCs & Macs
Sitnews, Web posted: Friday, July 06, 2001 - 11:10 pm

Ketchikan - Ketchikan Celebrates Independence Day 2001 - Photo Gallery...
Sitnews, Web posted: Wednesday, July 4, 2001


Ketchikan - Ketchikan Goose Tales --- Story, Photos & Sound ---
Sitnews, Web posted: Monday, June 25, 2001 - 10:22 pm