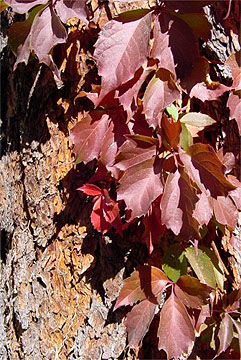 Fall Vines - Canada - October 2001
Digital Photo by Susan McMurray
Why don't you all come on down to Penticton and spend your Alaska money here. For lots of reasons:
You can drive.
Your money goes much further in Canada.
We love Americans.
We don't get hardly any rain here, it is semi-arid desert at 50% off, so you can leave your rain gear at home.
We talk with funny accents and every sentence ends with "eh".........very entertaining.
We don't take ourselves very seriously and laugh a lot.
We don't take our politicians seriously either.
All the best to Ketchikan,
Susan McMurray