Ketchikan Celebrates Elizabeth Peratrovich Day
A Great Alaskan Civil Rights Leader Honored
Story, audio, photos & movie by MC Kauffman
Historical Photo of Elizabeth Peratrovich courtesy of Gigi Pilcher
February 18, 2002
Monday - 9:10 pm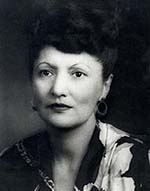 Ketchikan - A large crowd gathered Saturday, February 16 at the Plaza Port Mall to celebrate Elizabeth Peratrovich Day and to honor this great Alaskan civil rights leader.
The ceremony began with a parade through the mall in which the Brotherhood and Sisterhood members displayed "kugeinaa", banners, and hats worn for the importance of the occasion. The parade was led by Parade Sergeant Albert Ketah and Joe Williams as Parade Songster.
Upon the conclusion of the parade the program began with Irene Dundas serving as the Master of Ceremonies. Welcome addresses were presented by James Llanos, Jr. ANB President, Camp 14; Kimberly Shaffer ANS President, Camp 14; Tom Abbott ANB President, Camp 15; and Sarah Abbott ANS President, Camp 15 .
ANB Camp 14 Chaplain Willard Jackson delivered the invocation after first inviting all the children to come forward. This was followed by Winona Wallace who presented the Tlingit origin story.
Tom Abbott, ANB President Camp 15, followed Mrs. Wallace on the stage and spoke about the history and origin of the Tlingit National Anthem.
The Tlingit National Anthem was then impressively performed by George Jackson, Cheryl DeWitt and Maria Shields.
Sarah Abbott, ANS President, Camp 15, was designated the honor of introducing Ketchikan resident Barbara Bean - a family member of Elizabeth Peratrovich - and Mrs. Bean spoke briefly. She was followed by a trumpet prelude which was performed by Markel Wallace, and the Civil Rights Hall of Fame Reading which was read by Rev. Albert Ketah. Also included on the program was a biography of Elizabeth Peratrovich, a senate gallery skit by the Saxman Youth Group and a musical performance "Voices of Experience."
The program concluded with the Joe Williams II leading the ANB/ANS theme song "Onward Christian Soldiers" and the benediction by ANB/ANS Camp 15 Chaplain Winona Wallace.
This special event honoring Elizabeth Peratrovich was hosted by the Alaska Native Brotherhood and Alaska Native Sisterhood, Ketchikan - Camp 14 and Saxman - Camp 15.
Movie and Audio:
Photos:
Related Article:
Elizabeth Peratrovich Day - Honoring A Great Civil Rights Leader
Post a Comment -------View Comments 

      Submit an Opinion - Letter

Sitnews
Stories In The News