Southern Southeast Phenomenal Women Honored
by Dick Kauffman
March 31, 2002
Sunday 11:45 pm

Ketchikan, Alaska - The celebration of Women's History month was observed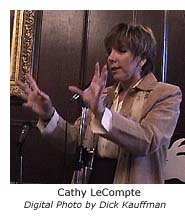 across our great nation and state throughout the month of March. In proclaiming March as Women's History month, Governor Tony Knowles said, "The economic impact of women in Alaska is significant. Accounting for 47 percent of the workforce, women are integral leaders in creating better conditions throughout the state through advocacy of social, educational, economic, and political programs."
On Saturday, March 30th, more than sixty people attended a local event to honor phenomenal women - the First Annual Southern Southeast Phenomenal Women Awards Luncheon - bringing the month-long celebration of Women's History Month to a close in Southeast.
The 'Phenomenal Women Awards' luncheon honoring and celebrating phenomenal women from the Southern Southeast communities of Ketchikan, Thorne Bay and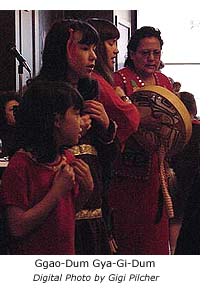 Petersburg was held in downtown Ketchikan at Annabelle's Keg and Chowderhouse. The event was co-sponsored and presented by the University of Alaska Southeast Ketchikan and Women In Safe Homes.
Cathy LeCompte, the Master of Ceremonies, in her opening remarks said that the event was not only to honor and celebrate women of history but to celebrate phenomenal women in our own community and also to celebrate each and everyone of us because we're all phenomenal in our own way and make our own statements and impacts within our circle of influence.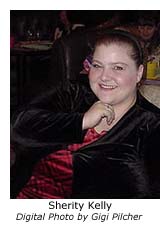 As a part of the program, The Woman's Song was performed by the Tsimshian dance group Ggao-Dum Gya-Gi-Dum. 'Mitch and the Boys' also provided entertainment singing several songs including "Just My Imagination." Door-prize drawings were continuous throughout the event.
Following the social luncheon which included delicious choices of a Mexican Combo, Fish & Chips, Pilgrim Sandwich, Annabelle's Hamburger, or Caesar Salad, Sherity Kelly announced the women recognized and honored as "Phenomenal Women" of Southern Southeast Alaska.
Recipients of 2002 Southern Southeast
Phenomenal Women Awards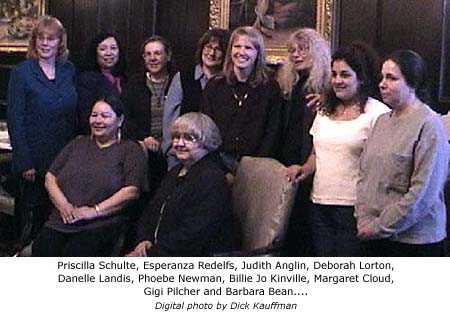 The women honored as Phenomenal Women were presented a 'Phenomenal Women Award' certificate along with a single red rose.
---

Click Here to view a movie of Cathy LeCompte's opening remarks and welcome.
(3.2 MB - QuickTime - For best results, please allow time for the movie to download.)
Download a free QuickTime player - PCs & Macs
---
Editor's Note:
A special thanks was extended to Cleveland Mitchell and Annabelle's Keg and Chowderhouse for providing the space and the service to have the luncheon and to Wal-mart, UAS Ketchikan and Cathy LeCompte for donations of door prizes.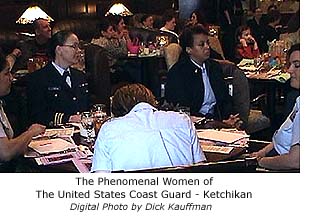 This story is dedicated by Sitnews to all the many Phenomenal Women in our community and state, and especially to the Phenomenal Women of the United States Coast Guard - Ketchikan, Alaska.
Post a Comment -------View Comments
Submit an Opinion - Letter

Sitnews
Stories In The News