Quilting In The Rain XI
11th Annual Show Presented by The Rainy Day Quilters
February 16 - February 17, 2002 - Ketchikan, Alaska
Story & Photos by Dick & Mary Kauffman
Tuesday
March 05, 2002
Ketchikan, Alaska - Quilting In The Rain XI sponsored by the Ketchikan Rainy Day Quilters was held to coincide with the Festival of the North celebration which is held during the month of February - a time when Ketchikan celebrates art in its many forms.
On February 16 and 17 the entire floor area that was once occupied by the Bon Marche at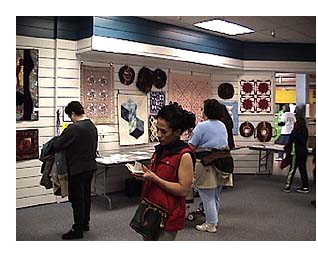 the Plaza Port mall was brilliantly and beautifully displayed with miniature quilts, wall hangings, lap & baby quilts, heirloom, full, queen & king sized quilts as well as youth made, original and contemporary creations.
Quilting is a year round activity for most quilters and the Rainy Day Quilters annual show allows quilters the opportunity to share their efforts with the community. Each quilt displayed is a major accomplishment and serves as a benchmark in the progress and development of that quilter. According to information provided by the Rainy Day Quilters, a quilt can take anywhere from a couple of weeks to several years to complete.
The Rainy Day Quilters organization was established in 1988. Since that time the membership has grown to 80 members who are described as enthusiastic with a passion for quilts and quilt making of all types.
View Photos of The Show
Quilting In The Rain XI Awards
Entries into the quilt show are divided into the categories based on the size and method of construction. After first being divided into either hand quilted, machine quilted or professionally quilted, each quilt is eligible for the Best Use of Color, Best Hand Quilting, and Best Machine Quilting recognition.
2002 Best Use of Color Award - Roxann Byron

2002 Best Hand Quilting Award - Annette Hansen

2002 Best Machine Quilting Award - Tie: Cathy Tillotson & Lindley Gifford
Each visitor to the show was asked to vote on his or her favorite quilt. The quilt receiving the most votes was awarded the People's Choice award.
2002 People's Choice Award - Annette Hansen
The President's award is a plaque presented to one quilter and chosen by all the past and present presidents of the guild. It is presented to a person who has given freely of their time and talents to the betterment of the guild.
2002 President's Award - Jean Mackie
Past Presidential Award Winners:
1993 - Kathy Van Horn
1994 - Judy Madden
1995 - Jane McIntosh
1996 - Roxann Byron
1997 - Dena Conley
1998 - Angie Tillson
1999 - Cindy Moore
2000 - Peggy Gelbrich
2001 - Mary Jo Erickson
Mary Jo Erickson and Dena Conley are Co-Presidents of the Rainy Day Quilters which is a nonprofit organization. The organization promotes cooperation and exchange of ideas among those interested in, or engaged in quilt making. The organization strives to instruct members in methods and techniques and encourages and maintains high standards of design and techniques in quilt making.
Guild meetings are the fourth Tuesday in each month, with special meeting dates set up for the months of November and December. Meetings are held at The Holy Name Church Parish Hall and dues for the year are $25.00. New members are always welcome.
Post a Comment -------View Comments 

      Submit an Opinion - Letter

Sitnews
Stories In The News