Ketchikan Welcomes The New M/V 'Prince of Wales' Ferry
by Dick Kauffman
Digital Photos by Gigi Pilcher
Sunday
December 30, 2001
Web Posted: 12:30 am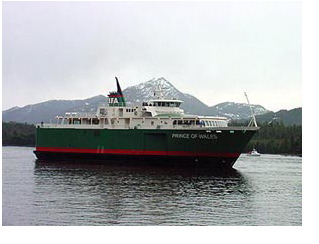 Ketchikan, AK - Approximately fifty to seventy five people from Ketchikan, Hydaburg and other Prince of Wales communities turned out Saturday afternoon to welcome the new M/V "Prince of Wales" ferry on its first docking in Ketchikan.
The M/V "Prince of Wales" ferry was escorted down the Tongass Narrows to the new Inter-Island ferry dock in style accompanied by a fire boat, the United States Coast Guard and a Temsco helicopter high above gloriously flying the American flag.
The new M/V "Prince of Wales" ferry is scheduled to begin round trip service between Ketchikan and the community of Hollis on the Prince of Wales Island on January 15, 2002. The Inter-Island Ferry Authority (IFA) plans to provide year-round service on this route with round trip service during the winter months expanding to two trips daily during the summer season.
The new M/V "Prince of Wales" is a 198' passengers/vehicle ferry. It will accommodate 150 passengers and 30 vehicles. The M/V "Prince of Wales" is owned by the Inter-Island Ferry Authority in Craig, Alaska.
Elliott Bay Design Group in Seattle, Washington was the designer of the M/V "Prince of Wales" and the builder was Dakota Creek Industries in Anacortes, Washington.
According to information provided by the Inter-Island Ferry Authority's web site, the M/V "Prince of Wales"has three stations of operation, the center helm and two wing stations port and starboard. The engines are 3512 Caterpillars rated at 1,500 horsepower each. Service speed is 15 knots, and a one way trip including tie-up time is estimated to be approximately 3 hours. The vessel has controllable pitch propellers. Safety equipment and electronics is the most current state-of-the-art available.
The vessel is completely wheelchair accessible with an elevator. Amenities on the vessel include a galley with a coffee shop and lounge for dining comfort, forward observation with comfortable settees, a reading lounge with future internet hook-ups incorporated into the design, an out-of-the-way quiet room, a children's playroom with viewing window for parents, and a solarium.
Editor's Note: I would like to thank Gigi Pilcher for providing the digital photos and Mary Kauffman for her invaluable assistance in designing the slide show and music feature.
Web Sites:
Southeast Alaska Transportation News



Post a Comment -------View Comments 

      Submit an Opinion - Letter

Sitnews
Stories In The News