Community Asset Builders Honored
"...Real heroes in the community of Ketchikan"
by M.C. Kauffman
Wednesday
September 5, 2001
Web posted: 12:05 am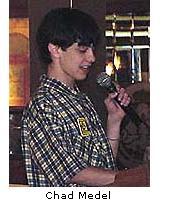 With ease and grace, Master of Ceremony Chad Medel opened the PATCHWorks' 2001 Asset Builder Awards luncheon and ceremony on Saturday by welcoming the approximately 60 guests attending the event. This special occasion to honor ten Ketchikan citizens and one community organization was held aboard the Sun Princess which provided an elegant setting. Medel extended appreciation to the Princess Cruise Lines for allowing Patchworks to have the ceremony on board.
Kirby Day, a representative of Princess Cruise Lines was introduced by Medel. Day spoke briefly giving a warm "welcome aboard" the Sun Princess to the guests on behalf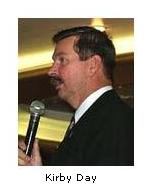 of the Princess and NW Cruise Association. Day stated they were honored to have an organization such as Patchworks aboard.
Medel recognized the groups that had been supporting PATCHWorks' media campaign over the last three years. Special recognition was extended to Janet Huley from the Local Paper, Tim Berry from KRBD, and Candi Austin & Lori Webster from the Ketchikan Daily News.
The PATCHWorks' Coordinator, Diane Gubatayao, expressed appreciation for the contributions of the Rainy Day Quilters. Gubatayao acknowledged three Rainy Quilters who were present, President Mary Jo Erickson, Angie Tillson and Roxann Bryan. This group is very special and helps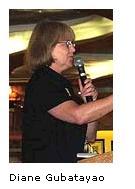 PATCHWorks by making the unique patchwork quilt awards that are given to the Asset Builder recipients said Gubatayao.
Beginning the awards ceremony, Gubatayao said, "We are here today about some real heroes in the community of Ketchikan. Some people who go above and beyond to take supporting youth to a different level."
Explaining the process, she said that nomination forms were available around the community and anyone could submit a nomination and anyone could be nominated. After the closing deadline for nominations, Gubatayao said a selection committee looked at all of the nominations. She said that "it's one of the toughest things that I've ever had to do." Taken into account in the selection process were how many of the 40 assets were involved, how many youth were impacted, how sustained was the effort of the work, and how many youth might recognize these folks out in the community Gubatayao said.
Those receiving Community Asset Builders Awards for 2001 are:
The program was brought to a close by the Master of Ceremony, Chad Medel. He said, "it was really an honor giving these fine people awards." Medel said that he had been working for PATCHWorks for almost four years and his eyes had been opened to the simple things you can do to make the community a better place. "I've had the privilege of working with the developmental asset model during all this time and it's amazing what it can accomplish," said Medel. He added that he is happy to see that the asset model is slowly being learned and incorporated into other citizen's lives. "It doesn't take much, but it really means a lot," Medel said.

Web Site: PATCHWorks

--------
Post a Comment --------View Comments ---------Submit an Opinion - Letter
Sitnews
Stories In The News