Veterans Day 2002
Ketchikan, Alaska

November 11, 2002
Monday - 2:30 pm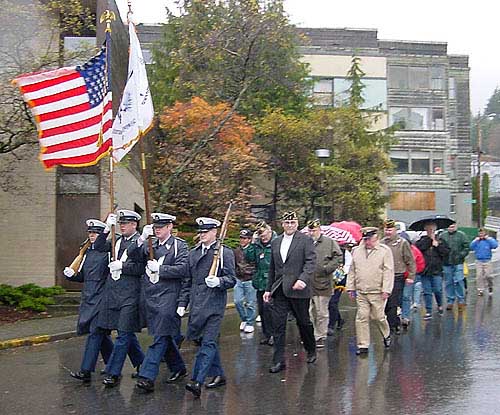 Veterans Day 2002 - November 11th
The United States Coast Guard's Color Guard led the march to Centennial Square where Monday morning's Veterans Day ceremony was held.
photo by Dick Kauffman
Ketchikan, Alaska - On the 11th hour of the 11th day of the 11th month, Ketchikan had an opportunity to celebrate and to give appropriate thanks and recognition to those who have served & who serve our country as did Americans across our great nation.
---
Veterans Day Messages

A Grateful Nation's Debt Transcends Veterans Day ...
by Ronald F. Conley

To All Veterans - Thank You For The Freedom Enjoyed By All Americans...
by Senator Frank Murkowski (Alaska's governor-elect)

A Time To Honor Those Who Have Served ...
by Senator Ted Stevens

A Veterans Day Message ...
by Congressman Don Young
---
Profile America

Listen To This Story In RealAudio - Monday, November 11th. This is Veterans Day - and all across the country, events will honor all the men and women who have served our country to preserve its freedom. Originally, the holiday was known as Armistice Day, marking the end of World War I in 1918. By the time of the Korean War, the name was changed to Veterans Day to include all who have served in the armed forces. Today, there are some 25-million living American veterans - including 1.2- million women. Some 3-thousand survive who served in World War I; just under 6-million from World War II; 4-million from the Korean conflict; 8-million from Vietnam; and more than 2-million from the Persian Gulf War.
Post a Comment -------View Comments

Submit an Opinion - Letter

Sitnews
Stories In The News