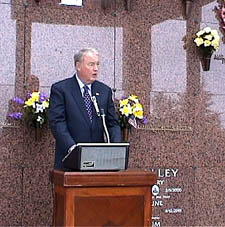 Guest Speaker:
Senator Frank Murkowski
Click on photo for larger photo
Ketchikan - On Memorial Day 2002, Americans in Ketchikan along with Americans all around our great Nation came together to honor the military men and women who have so bravely served our country and in remembrance of those who through great personal sacrifice and hardship have ensured that our Nation shall forever remain free.
As a reminder to citizens, the cover page of the program for the solemn Ceremony in moving words said,
"In times of war and not before,
God and soldier men adore.
But in times of
peace with all things righted,
God is forgotten and the
soldier slighted."
Let us always remember to honor the men and women who have so bravely served our country in the past and to honor the military men and women who serve our country today.
---