UP ON MY SOAPBOX
It Takes A Whole Village
by Mike Harpold
December 21, 2002
Saturday - 11:45 pm

I went to the Chamber of Commerce's Education and Workforce Development Committee meeting a couple weeks ago to see what was up. What was up was a new program the committee wants implemented by Ketchikan High School called, "School Counts!"
According to material passed out during the meeting, the program is designed to make a link between academic performance and future opportunities. "Many students don't understand the connection between performing well in school and finding employment," said Dana Egreczky, vice president of the New Jersey Chamber of Commerce, whose state is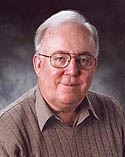 piloting the program. "This program will make it clear to high school students that in the real world employers do want to hire the best possible candidates for a job and are interested in reviewing some form of academic performance records."

The School Counts! program in New Jersey has three components: School Counts! Employers, School Counts! Students, and School Counts! Speakers Bureau. Employers from around the state of New Jersey are being asked to request proof of academic performance from all high school students or recent graduates when they apply for employment. Schools will be issuing certificates of achievement for those students who meet the criteria of the program. And business leaders will be traveling to the schools to tell students that they do care about their high school performance. To earn a certificate, students must be punctual and attend school 95 percent of the time, graduate in eight consecutive semesters, take more than the required courses for graduation and maintain at least a "C" grade in all subject matters.

Ketchikan Chamber Ed Committee chair Hannah Ramisky wants to put a similar program in place at Kayhi. But if there was any discussion of lining up employers behind the program or recruiting employers to speak to Kayhi classes it must have occurred at another meeting.

A few years ago, the Chamber Ed committee was successful in getting a similar program implemented in our school system, Ready for Work. The program imposed additional graduation requirements on students. A prospective graduate had to have passed reading, writing and math competency tests designed by the committee and complete one hundred hours of employment by someone other than the student's parents. Presentation of a transcript showing completion of the Ready for Work competencies by a Kayhi graduate was to signify to an employer that, well, the bearer was ready for work. There was even a guarantee attached. If the employer found the newly hired worker deficient in any category, the school district guaranteed to remediate the employee at no cost to the employer.

I suggested to the committee that they first find out from employers whether Ready for Work still worked. Six years after its inception, the school district still takes the program seriously, offering test taking opportunities several times a year. Students are diligent in seeking to fulfill the Ready for Work requirements; many begin working on completing their competencies as early as the eighth grade, some getting them out of the way by the time they have completed ninth grade. In addition, all sophomores are required to complete a semester course in career exploration which includes practicing job application and interview skills. But it is not clear how many employers, if any, are aware the Ready for Work program still exists.

In recent years, Ketchikan has consistently had one of the highest school dropout rates in the state, two and three times higher even than its economically worse off neighbors Craig and Wrangell. Some classes have lost as many as one hundred students between the eighth grade and the twelfth grade. The reasons why this should be are complex and long overdue for examination.

Historically, the pulp mill and commercial fishing have provided a large number of jobs with above average earnings in Ketchikan, jobs that did not require the applicant to have a high school diploma. Ketchikan's economy, particularly in the summer months, still provides a large number of low-skilled jobs, particularly in the visitor and commercial fishing industries, and a high school diploma does not seem to be a prerequisite.

But Ketchikan also has a high number of people who seek a GED certificate. In 2001, eighty-two students received GED's at Adult Education alone. That indicates to me, at least, that although a high number of our youth do not perceive the value of a high school diploma while in school, and may even be rewarded with employment despite the lack of a diploma, at some point in their lives many realize that holding a better, perhaps higher paying or more stable, job requires a diploma or GED.

The pulp mill is gone, along with hundreds of well-paying jobs that required little education. Commercial fishing is declining, leaving far fewer opportunities for able young people. These dramatic changes have caused a huge shift in the nature of the economic opportunities available to our youth.

If we are to convince local families and our youth that a stable and secure future depend upon staying in school, we are going to have to do a lot more than impose a new graduation requirement. Reaching an understanding of the problem and finding a solution is going to require the help of the whole village.


harpold@sitnews.org
©Mike Harpold
All Rights Reserved




Post a Comment -------View Comments

Submit an Opinion - Letter

Sitnews
Stories In The News