UPPER KETCHIKAN CREEK: Homes with a View
By June Allen
November 24, 2002
Monday - 12:15 am

Do you know the upper creek neighborhood? It begins at the intersection of Bawden and Park Avenue, and then Harris Street branches off to the left and Park Avenue continues on over the bridge at Ketchikan Creek's upper falls. Harris Street parallels the north bank of the creek. The Harris Street route has existed since the late 1890s and is probably Ketchikan's very first "suburban" avenue. Park Avenue borders the south side all the way to City Park, for which it is named. Park Avenue wasn't carved along the base of the hilly south bank until 1918 or so.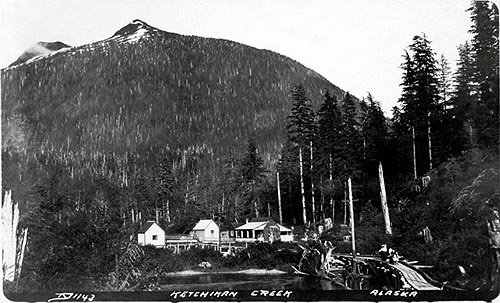 Park Avenue Walkway - Ketchikan Creek - Deer Mountain, circa 1910

Photographer: David Nicoll
Donor: Mrs. Flossie Hagmoe, Courtesy Ketchikan Museums

For the first third of the 20th century Ketchikan's streets weren't formally named and if they were, no one knew what the names were. Everyone knew where most everyone else lived and any directions were given from those general clues. To this day, in fact, there are oldtimers who never bothered to learn the street names, but they know you "turn left at the church" or turn right "where old whatsisname used to live."
There were a number of notable Harrises in town in the first years of Ketchikan's existence, but Harris Street likely was named for Daniel Smith Harris, who came to Ketchikan with "Colonel" John Schoenbar in time to be counted for the 1900 U.S. Census. Harris was 57 years old at the time, Schoenbar some years older. Both had been some 25 or so years younger when they became business associates during the silver and gold rush in Eureka, Nevada - where they bought sold, trades and occasionally developed properties and in the hopes of founding solid land office businesses. The two were not exactly con men, but were very experienced in the ways of organization in raw new communities.
Both men left their marks on the community, Harris as organizer of the fire department, as a public servant, and as the namesake of a historic street. Schoenbar, less deservedly, is immortalized in the name of a mine site, a road, a bypass, and a school - plus a mine shack that later became a "pest house," a politically insensitive term commonly used for isolation hospitals in the century's earlier days.
Col. Schoenbar had self-promoted himself to colonel from the lieutenant status he enjoyed in the boom town Eureka volunteer law-and-order organization. Presenting himself in Ketchikan as a mining engineer, he was the solid, well spoken gentleman with a Russian-Jew accent who created confidence in his opinions. The Ketchikan Commercial Club, forerunner of today's Ketchikan Chamber of Commerce, even funded the colonel for a trip back to Boston to try to influence rich mining backers. His storefront mining "office " stood just about where today's American Legion dugout is located on Park Avenue. He gained a number of staunch supporters in Ketchikan even though his assurance in the rich possibilities of his Schoenbar mine in Bear Valley was misplaced, plus the fact that he left Ketchikan quietly sometime before 1911, owing money to local supporters. Schoenbar died destitute in Oakland, Cal., in 1920 or so.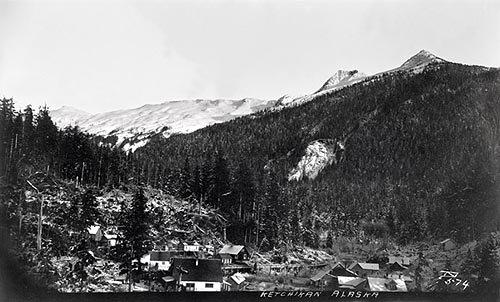 Nickeyville Area Upper Park Avenue Area Foreground

Photographer: David Nichols
Donor: Irene McGillvray - Courtesy Ketchikan Museums
While Schoenbar was the front man, D. Smith Harris was another story. He was a personable go-getter, apparently one of those people who have a real talent for organizing and inspiring others. Some months before the August 18, 1900, incorporation of the City of Ketchikan, Harris spurred the creation of the town's first organized fire fighting group, the Bucket Brigade. To qualify for membership, one had to "own his own bucket and be able to carry it full of water." Many of the town's eligible men joined, the birth of Ketchikan's excellent fire department. Smith was named the new city's first fire chief.
At incorporation in 1900, he was named city clerk as well as its first fire warden. In fact, Harris didn't skip town, but stayed on to become first a respected councilman and then mayor of Ketchikan in 1914. He had time as well to be secretary of the Improved Order of Red Men, and an active member of the Arctic Brotherhood and the Pioneers of Alaska. He died in 1926 at Sitka at age 83, and is buried in Sitka's Pioneer Cemetery.
Harris part of tramway route
Harris Street is short, but it was the most direct route to the mine prospects in the upper creek areas. In 1903 the newly planked trail came to be called Schoenbar's Walk. In that year, Ketchikan's City Council allowed investor-backed Col. John Schoenbar to build and operate a tramway from the dock over a route to access his mine. That way the mining engineer would have easier access to his mine site and the City would have some downtown walkways planked into functioning streets in the bargain. Those downtown "proposed" streets were named differently in those days, but council minutes noted that the tramway was to be 15 feet wide in the downtown area, with the tramway line to use seven of the 15 planked southwesterly feet for tracks and tram cars. It was to begin at the end of the spruce mill southwesterly plank walkway, and "cross Cedar, Helm" and Bawden and then apparently extend up today's Bawden to today's Harris Street.
However, in 1907 the metals market collapsed in a nationwide depression that affected Ketchikan and all of Alaska strongly, and it's safe to say that any tram traffic was absent after that date. So was any hope for a significant mine operation in the upper creek area. At mid-century Emery Tobin's Alaska Specialties shop on Mission street boasted a small wooden sign with an arrow pointing up toward the mountains in general, stating, "There's gold in them thar hills, but not of a high enough grade to make mining profitable" - or words to that effect.
All that was left of the hopes for prosperous mine operations in Ketchikan's backyard was Schoenbar's planked legacy. Whatever the timeline and exact route of the tramway, longtime resident Rudd Smith, born on Harris Street in 1917, remembers playing on it a child. "It was just a plank street, maybe six or seven feet wide" along Harris, he says. Rudd's uncle Irvin Smith built in 1902 what was one of the first homes on the street, 835 Harris. A few of the city's oldest homes are on Harris Street. Oldtimers have told stories of walking along the very narrow wooden street and having to dart to safety when a vehicle came along. There were other even earlier stories of young deliverymen who drove the meat market motorcycle and "opened her up" along Harris Street when making deliveries.
...and later Park Avenue
The world was moving at a fast pace during the World War I years. On May 7, 1915, a German U-boat sank the British liner Lusitania and 128 American passengers were lost. In 1917 Germany declared unrestricted U-boat warfare on the Atlantic, and the until-then neutral U.S. cut diplomatic ties with Germany. Two months later the U.S. formally declared war on Germany. When the call to arms came from President Woodrow Wilson on April 6, 1917, Americans - including surprising numbers of young men from Ketchikan to Barrow - joined up. Wartime meant blanket closure of the mining industry. But Alaska's fishermen continued to net the salmon that was canned for the doughboys in the trenches of France. And the end of the war was in sight.
The gloomy news of 1918 was a worldwide epidemic of what was then called the Spanish influenza. The disease was as old as its name - influenza coming from the old Italian word for "influence," from a time when medieval astrologers thought the epidemic sickness was caused by the influence of the stars. The disease touched Alaska, too, necessitating lengthy closures of movie houses and other places and cancellation of activities where crowds met.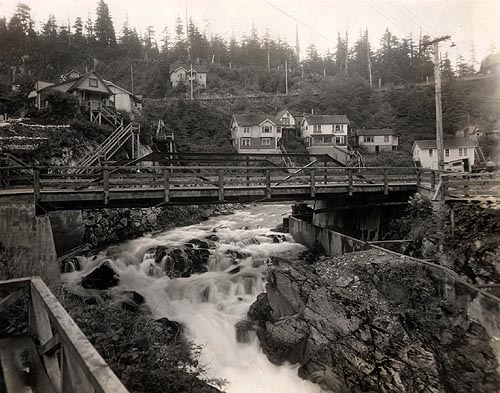 Ketchikan Creek at Park Avenue, 1936

Photographer: Forest J. Hunt, Courtesy Ketchikan Museums
But among the sad newspaper items of flu victims was a much brighter news story, one foreshadowing a prosperity to come in the following decade. Ketchikan, by then a "filled" city with virtually every building lot developed and every lot occupied, was about to expand by opening up a new area for homesites. A street was to built along the south bank of upper Ketchikan Creek, opening both creekside lots as well as hillside lots, all with superb views of the creek and surrounding mountains.
An early mention of what was to become Park Avenue appeared in the Alaska Pioneer, a Ketchikan daily newspaper that published for only three months and then went out of business in early 1919. A story in the Jan. 18, 1919, edition says that the Alaska Investment Co. had added Tract C of the Venetia Lode to its holdings, 17 acres of eligible building sites within the city limits, including the south banks of the upper creek.
The Alaska Investment Co. was said to have purchased the property from John R. Beegle, who had been Ketchikan's first Customs officer in 1900 and who, like many other pioneer settlers, was involved in a variety of commercial and community activities. In this transaction, the article said, Beegle had helped the Alaska Investment Co. by negotiating a bank loan - not surprising considering the fact that Beegle was a vice president of the Ketchikan Miners & Merchants (M&M bank) for many years. The same front page noted that owners of properties abutting that particular chunk of Venetia Lode had approached the city council with a petition asking that for a street to be built bordering the south bank of the creek, "needed for homesites for a growing town."
Curiously, there was a mention in a short piece in the 1919 edition that Col. John Schoenbar was ill and bedridden in Oakland, Calif. He appealed to friends in Ketchikan to help him financially in his time of need. He was by then in his mid-80s. He still had loyal friends in town.
There was great optimism in Ketchikan as elsewhere in those years just after the end of World War I - called at the time "the war to end all wars." The country waited for the economy to perk up after the wartime slowdown, and it did just that. When the city fathers agreed in 1919 to what would be called Park Avenue, thus agreeing to open up acreage for development, Ketchikan was about to experience significant growth. By the summer of that year the doughboys were arriving home to settle down, raise families, and organize Post 3 of the American Legion. Ketchikan's population count in the 1920 U.S. Census was close to 4,000. As work began opening up homesites on Park Avenue, Captain's Hill was beginning to grow up along the hillside of Water Street. Although downtown/midtown had grown as far as it could, the city was stretching out on both ends.
Why the name "Park Avenue"? The new street was to continue from the creek all the way to Mahoney Heights at the other end and any number of street names could have been picked from places along the way. But those in favor of the new street said that the miners on the upper creek had given the city a parcel of land that was earmarked to become a city park. Therefore access was needed. So Park Avenue it became.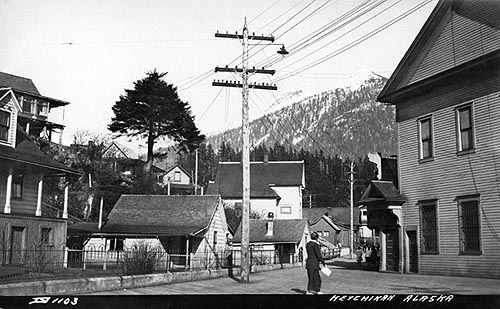 Mahoney Heights in winter the future Deermount Street

Photographer: David Nichols
Donor: Irene McGillvray, Courtesy Ketchikan Museums
The whole stretch of street and the houses beyond were just called "out to Nickeyville," says Merta Kiffer, who was born just off Park Avenue on Freeman Street in 1921. [Nickeyville was named after a man named Nickey - and the street was said to be the source of some good home brew during the years of Alaska's Dry Law.] Merta's Freeman Street childhood home was situated right on the bank of the creek and the back porch was actually over the creek, she recalls. In fact, the house is till there, although it has been moved a little.
Mrs. Kiffer remembers that Park Avenue in the 1920s was nothing fancy - potholes and mud puddles. The avenue must have been a work in progress. Rudd Smith remembers a lot of blasting and work crews along that side of the creek during a number of those early years.
Rudd also recalls that the city didn't get serious about street names until about the 1930s. A street might be named for a time for someone who lived there but later moved on. Changes to street names were listed in each new edition of telephone directories as an aid to baffled newcomers. Today's Freeman Street was once called Creek Way and Fair Street had once been called Hatchery Street.
Park Avenue starts at its intersection with Bawden Street. Some of the buildings along that short stretch before the bridge were built long before Park Avenue was carved along the creek's bank. The Hagevig house at 655 Park, for instance, was built in 1908. The city's water warehouse went up in 1912. The Ketchikan Apartments hugging the creek's bank near the upper falls weren't built until 1925, but ten years later the apartment house owner, a woman named Laurist Hansen, deeded a portion of her property to the city for the viewing platform that stands over the falls. Then, as today, tourists gathered there to watch the pink salmon runs jump the falls. The street continues out to Schoenbar middle school, the hatchery and Ketchikan's lovely City Park, to the road to the trailhead for Deer Mountain, and Ketchikan Public Utilities' road to Ketchikan Lakes.
Today park Avenue is an easy, level walk with interesting views and a fascinating history. The quiet months of winter and spring are excellent times to get acquainted or re-acquainted with the town, no matter your length of residency.

--Contact June...
Post a Comment -------View Comments

Submit an Opinion - Letter

Sitnews
Stories In The News

Copyright © 2002 June Allen
All rights reserved.
Not to be reprinted in any form without the written permission of June Allen.