A MAN WHO CHANGED THE FACE OF A CITY:
The Firebug Bill Mitchell
By June Allen
November 15, 2002
Friday - 12:45 am

Ketchikan in 1950, population 5,305, was a little wooden town on stilts that lined a short stretch of Revilla Island's shoreline. Stairways called "streets" climbed to homes that clung to a backdrop of forested hillsides. It was a compact town, its streets as narrow as its building lots. Downtown businesses were crowded side-by-each and space was gained by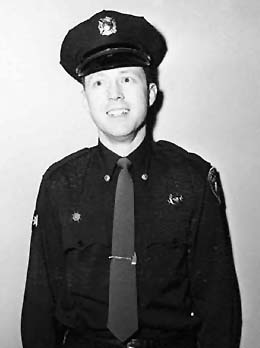 William (Bill) Mitchell
Bill Mitchell's K.V.F.D. portrait, 1960
Donor: Ketchikan Volunteer Fire Department
Courtesy Ketchikan Museums

going up a story or two. The main thoroughfare, Front Street, was sometimes described as "a tunnel" walled-in by rain-soaked buildings. The waters of Tongass Narrows and the adjacent islands were not visible from Front Street. A narrow wooden "bridge-street" circled the base of rocky Knob Hill, connecting downtown with the neighborhood of Newtown's Water Street - a short, narrow planked avenue with choice, crowded waterfront sites as prized as those downtown.

In the 1950s immense changes were under way, some of them surprises. During the decade until the 1960 census, the population would grow to 6,483. The town's entire economy would change from the year-long charge book of a fishing village to the once-a-month payment of the more dependable manufacturing economy. A pulp mill was coming to town. A tunnel was being driven through rocky Knob Hill and downtown streets widened to accommodate heavy trucks as well as increased passenger car activity. High-rise apartment buildings were going up on both sides of town. New schools were on the drawing board. The U.S. Forest Service was building roads north of town as fast as contractors could finish them, providing homesite lots and areas for churches and recreation.

A rash of curious fires

And something else was happening as the decade progressed. Ketchikan's all-volunteer fire department was experiencing an unusual rash of fires, fires that all seemed to have started in the same way. For some reason, the fires had started in laundry or utility rooms, probably ignited by a candle left near trash. Firemen discussed among themselves that someone apparently had been deliberately setting them. None of the fires, however, had been serious - until 1956. On July 15, 1956, the buildings on Main Street between Dock and Mission, and the adjacent Coliseum Theater, were destroyed by fire! Lost were the theater, the Red Men Lodge's large turn-of-the-century building and its tenant spaces, Ketchikan Meat Co. and Ralph's Liquor Store. Today that site is a parking lot.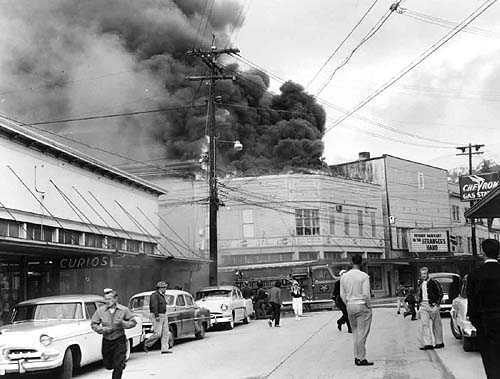 Coliseum Theater fire, May 21, 1956
Donor: Estate of Ralph M. Bartholomew
Courtesy Ketchikan Museums


Other fires of varying destructiveness followed, capped on New Years Day 1958 when the entire waterfront Ferris block of 12 businesses, on the dock side of Front Street between Mission and Dock Streets, burned to the ground. Lost were the Alaska Steamship offices, Stan's Music Shop, the telegraph office, the Rainbird Café and Bar, a drugstore as well as the row of apartments on the building's second floor. A portion of an oil painting rescued from the Rainbird Bar - a scene from the Shooting of Dan McGrew - hangs today on the wall of the Sourdough Bar, all that's left of the Ferris Block. On that New Years Day of 1958, Front Street was opened to a view of the marine traffic of Tongass Narrows.

The fires continued to destroy

During 1959, there had been continuing and heated community debate about whether or not to widen traffic-heavy Front Street from the tunnel to Mission Street to accommodate larger trucks and vans. Adjacent property owners questioned the wisdom of creating a "two-block long super-highway" in the middle of town. [If you look at the pavement of Front Street today, you can see evidence of various widenings and rearrangements. In 1920, venerable Front Street claimed the honor of being the first paved street in all of Alaska!] Then on Jan. 12, 1960, fire broke out in the dockside Hunt Building near the tunnel-end of the two-block stretch, about where the bottoms-up Eagle Park is today. The fire, however,

was contained and the building was saved. But just 13 days later that building and all the adjacent properties were destroyed by a raging fire! Another block of waterfront Front Street had been opened to the view.

And then one year later, in January of 1961, fire ripped through the mortuary on Main Street, through the second story of the 108 Bar and spread, with lesser damage, to the Bon Marche. It was contained just before it reached the Ben Franklin store owned by Fire Lieutenant Bill Mitchell's parents. By this time, suspicion of arson had settled on one of the volunteer fire department's own - Mitchell himself. Ketchikan Daily News reporter Al Parkins, a single man who liked to ride around in police cars on the night shift, noticed and remarked that Bill Mitchell seemed to be the first fireman to arrive at every fire. The late Isobel Daigler, manager of the Coliseum, had noticed that the "nice young fireman Bill Mitchell used to come into the theater after the fires" and with great excitement tell her all about them.

Fortunately none of the arson fires had taken a life but the property losses were astronomical for the time. Fire Chief Ralph M. Bartholomew said he was tired of being called "The Chief in Charge of Burning"! At the time of the January 1961 fire, he and Police Chief Hank Miller and state Fire Marshal Jerry Phillips had been quietly working the case for a year, since the 1960 fires. They were almost certain Mitchell was the firebug. But they had no proof!

To be part of a national study

In 1961, comparatively little was known about pyromania or the compulsions of fire setters. In fact, the Ketchikan/Bill Mitchell fires were part of a national study which began the process of understanding arson and arsonists. But as a first local step, it was necessary to get some indication of proof that Mitchell was in fact the arsonist. It wouldn't be easy in small town Ketchikan. The young man's mother and step-father, Jess and Mae Ison, were respected and well liked owners of the Ben Franklin store. Mitchell himself was a nice looking and popular young man, president of the Jaycees, the Junior Chamber of Commerce, manager of his parents dime store, and a married man with a lovely young wife. It was also hard for the firemen themselves. What if they were wrong! Mitchell was a fellow fireman and a friend, someone who was invited to dinner at their homes. But something had to be done.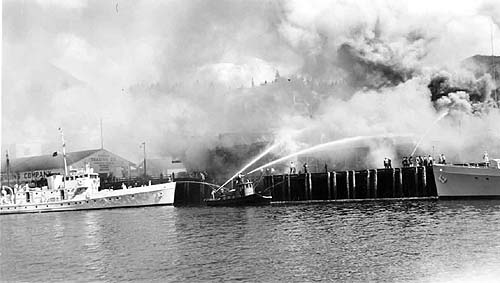 Ireland Transfer on Heckman Wharf on fire
Donor: Estate of Ralph M. Bartholomew
Courtesy Ketchikan Museums

State officials were brought in to do lie detector tests on all the firemen. When it was Bill Mitchell's turn, he always had an excuse to come in for a test "later." So Ed Dankworth, the polygraph operator, was hidden in the Ingersoll Hotel under an assumed name. He didn't leave his room, his meals were taken to him and a story was planted in the newspaper that Dankworth had gone back to Juneau. Mitchell reappeared! But when Chief Bartholomew said Dankworth was back and ready to test him, Mitchell said he had to check in first with his mom. When he returned for his test, Bartholomew said Mitchell was "a foot high on phenobarbital and we couldn't do anything. But we knew he was the one." Fire Marshall Phillips took what evidence he had to a grand jury and Mitchell was indicted. After the initial hearing, an insulted Mitchell left for California to be with his grandmother.
With Bill Mitchell in California, all was quiet in Ketchikan. There were no more arson fires that spring - at least until the Fourth of July Celebration 1961! The Fourth that year fell on a Tuesday. Dock Street was blocked off as usual from Main to Front Streets for the traditional booths for games and goodies. Children darted in, out and around the forest of adults' legs in the safety of the blocked off booth area. Traffic elsewhere was just as heavy, bar doors propped open to let out the smoke and the sidewalks crowded with holiday revelers. Policeman Ray Hackstock was directing traffic at the corner of Front and Dock when he spotted a large woman crossing the street. Years later he said he never suspected "she" was a man, he noticed her just because he was surprised to see such a "large" yet fairly attractive woman. No one else seemed to pay any attention to this well dressed person wearing harlequin sunglasses, a two-piece dress with a coat worn over her shoulders, who carried a large handbag as she clicked along in high heels.
Three fires at once!
Then at 3:20 p.m. a fire was reported in the apartments above Tongass Trading, its doorway inside the blocked-off booth area! When firemen made their way through the crowds and reached the Tongass Trading second floor, they found the building's fire hose had been cut! Just four minutes later a fire was reported at the Federal Apartments, across Bawden Street from St. John's Church. And at 4:40 a fire was reported in the Stedman Hotel, above today's Downtown Drugstore, directly across the blocked-off booth area from the first fire. Providentially, many if not most able-bodied men in town were or had been members of the volunteer fire department and everybody pitched in to handle hoses and fight the fires. The Coast Guard joined in the effort and the Boy Scouts joined the police force in directing traffic and keeping order.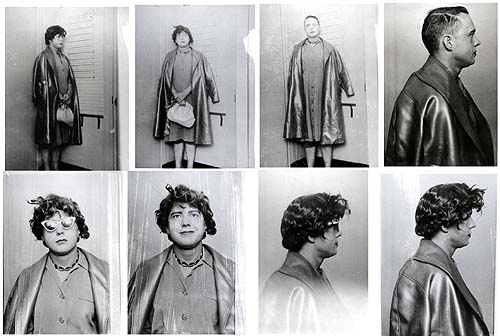 Bill Mitchell's F.B.I. Mugshots, July 4, 1961
Donor:: Ketchikan Volunteer Fire Department Photo
Courtesy Ketchikan Museums

The fires carried Bill Mitchell's trademark, but Bill Mitchell was in California! Wasn't he? Then reports came in that a strange woman had been seen at all three fire locations. About the same time Lloyd Tillson, an Ellis Air pilot ferrying passengers back and forth to the Annette Island airport, called in to report that he'd seen an FBI poster hunting for a check artist dressed as a woman and that he'd seen someone that day matching the description. He reported to Pan Am, which called the Seattle FBI to meet the plane. It was reported that when the mysterious Ketchikan "woman" got off the plane, the FBI agents almost lifted her/him off the ground by the armpits and took him straight to Customs. Mitchell had no ID but managed to prove his identity through phone calls. Mitchell walked away free and flew on to California. His family, however, finally talked him into turning himself in. So Police Chief Hank Miller flew down to California and brought him back to Ketchikan. Two days later the firebug confessed. Bill Mitchell was finally busted.
He confessed to starting 12 fires, but it was estimated that there were considerably more fires attributed to his trademark starter -- candles in glass candle holders identical to the ones in his parents' dime store, circled by crumpled paper and other flammables that would ignite when the candle burned down a bit. What wasn't understood was why he started the fires. Initial arson studies had indicated that pyromania has a sexual association, a concept that was difficult to talk about in the more straight-laced 1950s and early 1960s, a hesitation that would change rapidly as the 1960s matured. When Mitchell's wife was asked if their sex life had been normal, she calmly replied, "What's normal."
On conviction, Ketchikan's firebug was sent to McNeil Island Penitentiary in Washington State. The attractive and well liked Mitchell was eventually paroled from the prison where he had been a model prisoner. In fact, he earned his parole with the help of a Fairbanks businesswoman, a serving member of the Alaska Parole Board! She provided him with a job in Fairbanks when he got out. He was a model citizen there for many years and apparently set no fires. At length he returned to his family in California, where he - and his parents - died.
View more photographs in the Photo Gallery.

--Contact June...
Post a Comment -------View Comments

Submit an Opinion - Letter

Sitnews
Stories In The News

Copyright © 2002 June Allen
All rights reserved.
Not to be reprinted in any form without the written permission of June Allen.