MARTIN BUGGE'S BEACH:
Part of the 1915 Gold Nugget Claims
By June Allen
October 09, 2002
Wednesday - 12:30 am

Some people call it by one of its names, Rotary Beach. Others call it by another, Bugge Beach. It's a popular saltwater swimmin' hole and beachside park area at Mile 3.5 or so on South Tongass Highway. A natural tidewater mini-bay between natural rock formations formed a high-tide pond, the neck which was dammed with a rock-and-cement breakwater many years ago to create a "bathing pool." The long, narrow strip of Bugge Beach is pocked with tide pools for discovering marine life and there's dry land for picnic tables and play. It's one of the few beach playgrounds along Ketchikan's road system.
Bugge is a not uncommon Norwegian surname. In fact, Palmer, Alaska, was first homesteaded by a John Bugge back in 1916. Many of Alaska's early settlers were of Scandinavian origin.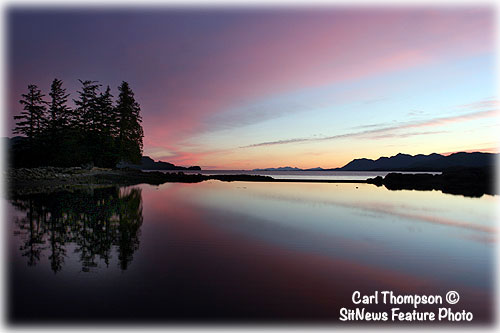 Bugge Beach Sunrise
Photograph by CARL THOMPSON ©
The popular Ketchikan beach was named for gold claim owner Martin Bugge, a quiet Norwegian miner-to-be who left Minnesota during the Alaska Gold Rush to make his fortune. Magnus Bugge was born in 1875 in Norway but Americanized his first name to Martin when he and his family emigrated to the United States, settling in Evansville, Minn.
Unlike his farming relatives, however, Martin Bugge had the blood of Vikings in his veins. He grew up near the town of Alexandria, Minn., a town that claims it was founded by Viking explorers when one of their boats arrived there in 1362! The town claims those Viking arrived in Minnesota via Hudson's Bay and a network of south-running rivers. The town epitomizes the mischievous Norwegian humor. Its museum displays a Viking rune - a stone slab incised with Ancient Viking script that was allegedly found partially buried in a farmer's field near the town. Residents are said to love arguments about whether the rune is authentic or not.
Martin Bugge was of Ketchikan's original settlers at the turn of the 20th century. He was a hard worker. He was also a very private man. Successful prospectors and miners knew when to keep their mouths shut, and that, combined with Bugge's natural reticence, made Bugge a successful man. Even though he always listed his occupation as "miner," none of his own gold claims ever became a working mine. But he found other ways to profit from mining, from managing to arranging financing. He was "associated" with mining until the end and died a wealthy man.
Martin Bugge was in his early 20s when the news of the Alaska Gold Rush was telegraphed around the world and reached him in Evansville, Minn. He was in love with neighbor Emma Halvorson, who was still a teenager. But Emma promised to wait for him until he made his fortune, and did wait, even though it would be 15 years before they married. He arrived in Ketchikan in 1901 and immediately went into business with another man, Tom Heckman, operating an overreach piledriver. Ketchikan was booming and the men had plenty of work building docks in town, at nearby canneries, and they rebuilt the bridge over Ketchikan Creek.
In 1904 Bugge, who believed in the Horatio Alger rules of Hard Work and Clean Living, was able to buy claims in Smugglers Cove and on Cleveland Peninsula. He was beginning his investments for the future. He continued in the piledriving business, improving and extending the Alaska Steamship and Tongass Trading Co. docks. He then built the dock at the copper boomtown Hadley, the dock at the "It" mine near Kasaan, and the dock for New England Fish Co. in Ketchikan. At that point, about 1909, he "retired" from piledriving and apparently concentrated on prospecting for gold and investing in promising prospects.
In the winter of 1912 Bugge bought a small house overlooking the Main and Dock Street intersection, a house accessed by a stairway that climbed upward alongside the Mike Martin homesite, the location of today's Wells Fargo ( formerly NBA and earlier M&M) Bank. He bought the house from John Stedman, a principal in Tongass Trading Co., the builder of the Stedman Hotel and the man after whom Stedman Street is named. In early 1913 Bugge sailed south and traveled by train back to Minnesota where he married his waiting sweetheart Emma. She had been teaching school while she waited for him. At their marriage he was 38 and she was 32.
They traveled to Ketchikan and set up housekeeping. Only single women could become public school teachers in those early days, so the new Mrs. Bugge busied herself with church and teaching Sunday School for the Lutherans, with services held in various locations until a permanent structure could be built. The Lutherans in those early years operated a seamen's center in the building between today's Coliseum Theater and the Episcopal seamen's center on Mission Street.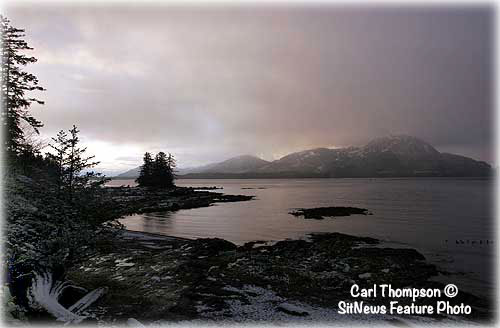 Bugge Beach Sunset
Photograph by CARL THOMPSON ©
In 1915 Bugge bought the cluster of six or seven Gold Nugget claims that today include Bugge Beach and a sizable stretch of hillside above it. He - or someone - apparently had prospected the properties because there were holes in the hillside and one deep shaft that had been staked and worked at one time. Mining man Bugge kept a low profile from then on, but his Helm Bay gold mine interests apparently paid off, because during the historic presidential visit to Alaska in 1923 he was able to present President Warren G. Harding and Mrs. Harding with a golden key to the city and several other valuable gifts on behalf o the City of Ketchikan, the gold said to be from his Helm Bay mine interests.
In 1925 a road was built from Ketchikan to Saxman and provided easy access to Bugge's beach property. Children splashed in the large, sun-warmed high-tide pond that would soon after be damned at its neck to become a real swimming hole. Families gathered to picnic and beachcomb and adult swimmers would venture out into the channel for some diving excitement. There were old piling there that had been part of an early fish trap that had been used by George Inlet Cannery. The swimmers would dive from the supports that held the piling together - until a storm in 1930 uprooted the piling and the diving platforms were lost.
The Rotary Club of Ketchikan leased the beach property in 1928 and did some work on the "bathing pool," and two years later decided to raise money by public subscription to buy the property from Bugge, to improve it, and dedicate it as a public park. That's why the property's name became changed to Rotary Park. Ketchikan folk, however, are known for calling many if not most locations and businesses by "what they used to be."
Martin Bugge was a good, honest and hard working citizen, but he was not known as a philanthropist. So the Rotary Club formed teams among its membership to see which one could raise the most money. The teams were assisted by the Boy Scouts, the Elks, Eagles and the Gyro Club and about 300 school children of Ketchikan. Dances and raffles were held and by 1930 Rotary bought the beach property from Bugge for $2500.
Two toilets had been installed and two bathhouses built for changing into swim suits. The creek across the road was used for washing up, trails were built in the park areas, and businesses had donated garbage containers and beach stoves. There were plans to pipe creek water into the park for picnic use. Parking spaces were cleared by the Bureau of Public Roads.
A contest was held to name the new park, the name to be chosen by school children. It was hard to come up with a name that everyone could agree on. Third-grader Marjorie Ann Voss won a $15 prize for her suggestion of Community Beach. Bobby Race suggested the name Tongass Park and also won a $15 prize. But about that time the full force of the Great Depression reached Ketchikan and finding a name for a park that everyone could agree on faded from importance as the populace concentrated on economic survival. In spite of the suggestions for a new name, the little park on Tongass Narrows was called Bugge Beach or Rotary Beach - as it is still called today.
In 1943, on the same day, the town would lose both Mr. and Mrs. Bugge in a curious sequence of events. It was a wet and blowing Fourth of July weekend, with .57 inches of rain measured over the weekend and a downpour of almost an inch a day later. Mrs. Bugge had been quite ill and was admitted to Ketchikan General Hospital on Saturday, July 3. The old Bawden Street hospital's rear entrance and the backyard walkway of the Bugge home were only yards apart along the stairway Edmond Street.
Mrs. Bugge died at 6 a.m., Sunday July 4. She was 62. Her niece, Dorothy Halvorson, a teacher at Ketchikan High School, couldn't find Mr. Bugge to tell him of his wife's death. A search was begun and an acquaintance of the Bugges, a man named Robert Novatney,
Patch of Salmon Berries
photo by Dick Kauffman


joined in the long search. He had been working with Bugge on a mining property. Novatney found Bugge's body, hidden by leaves, in a patch of salmon berries that grew, and still grow, at the foot of Edmond Street stairs. Dr. Dwight Cramer pronounced him dead and determined that he had died about 12 hours earlier. Police surmised that Bugge, 68 at the time of his death, had probably slipped on the rain-slick planks of his rear walkway and suffered a heart attack as he fell and then rolled down the hill and into the berry bushes. There was no explanation of why he might have been outdoors in the rain at 3:00 a.m., the estimated time of death.

Joint funeral services were held for the couple on July 8 at the Lutheran Church. They are buried side by side in the old Masonic section of Bayview Cemetery. Martin Bugge died a rich man. His will left everything to his wife, with bequests to other family members. In the end, the couple's relatives inherited from his estate and from the sale of their home. Mrs. Bugge's niece Dorothy Halvorson married Robert Novatney two years later. He continued his mining interests and she continued teaching. She taught English at the Juneau Community College for many years and the Novatney Building on that campus is named in her honor.

And Bugge Beach remains just that, Bugge Beach. It was a recreation area built by volunteer efforts and enjoyed by all. Over the years it deteriorated - vandals destroyed the toilets, threw broken bottles into the swimming hole. Fewer and fewer people went to the once popular park. Then during World War II the U.S. Coast Guard took on the park as a project, cleaning the glass and debris from the swimming hole and repairing its damaged breakwater, and clearing the grounds. Over the years, Rotary and other groups have made efforts to keep the park in good shape.

And that's why it's called Bugge Beach, and who it was named for, as well as who he was, where he came from and what happened to him in his life in Ketchikan - where his name will always be remembered.

--Contact June...
Post a Comment -------View Comments

Submit an Opinion - Letter

Sitnews
Stories In The News

Copyright © 2002 June Allen
All rights reserved.
Not to be reprinted in any form without the written permission of June Allen.