THE WORLD'S OLDEST PROFESSION...in Ketchikan
By June Allen
August 05, 2002
Monday - 12:55 pm

Prostitution probably was the oldest profession in the world and was certainly among the very first professions to be practiced in Alaska during - and long after - the Gold Rush. The profession was condemned from the pulpit, of course, but in boom towns anywhere it was more or less accepted as a necessary evil. Well into mid-20th-century, in towns with
---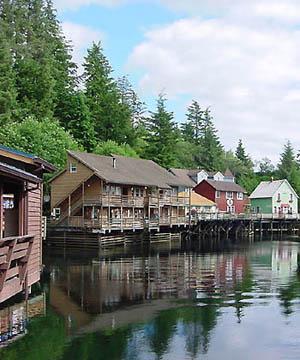 Present Day View of Creek Street
Dolly Arthur's house (green - far right) is
a popular tourist attraction today.
Photo by Dick Kauffman
------

predominantly male populations there were those among the citizenry who sincerely believed that prostitution made a town's women and children safer. And in the small world of those early years prostitution was seen as very good for the economy.

Every town along the Inside Passage was in a prime location for prostitution but Ketchikan had an edge starting in 1900 - the transfer from Mary Island to Ketchikan of the U.S. Customs House and its regulations that required all northbound vessels from steamships to small boats to stop in the "first city." The Girls welcomed traveling salesmen, fishermen from boats of all sizes that sailed to Alaska each spring during the fisheries heydays, and anyone north- or south-bound stopping for rest and relaxation. The Girls not only made money, they spent it, lavishly.

Ketchikan incorporated as a City in 1900 but it was not until 1902 that its Common Council noticed that the Girls were becoming something of a problem along Front Street as well as along Water Street in Newtown. They usually lived in little shacks meant as temporary quarters or in rooms above saloons. In an effort to control problems and complaints, the Council in September 1902 sent notices to the town's six barroom owners that "Women are frequenting the bars and disturbing the peace and quiet and order of the community, and unless this is abated the license will be revoked." Fights did erupt over the Girls and sometimes resulted in more than fisticuffs.

Apparently the problem was not solved and the next spring, in March 1903, the Council received a petition from residents of Newtown, asking that bawdy houses be removed from their neighborhood. In response the Council ordered that "Bawdy houses in Newtown be removed to Indian Town on the other side of the small creek." The Indians who lived on the "other" side of the creek, one of two tribes of Tlingits that had settled creekside some years before, were not happy with their new neighbors. They moved to Saxman. And thus Creek Street as a red-light district was created. And a busy neighborhood it was during the summer season.

At sometime during the early years of the first decade of the century the City of Ketchikan took on the problem of and regulation of the Girls. There are to this day copies of the printed forms used by the police to keep tabs on the Girls. The printed forms begin with the a place for the date "_______ 190___." There are lines for their names, their "stage" or working names, their age, next of kin, required medical examination etc. These forms were still in use decades later!

For a number of years Creek Street was out-of-sight and apparently out-of-mind. Buildings along Stedman Street shielded passersby from the activity on the other side of the creek except right at the tideflats where tourists flocked to watch the pink salmon runs. The red-light district appeared to have been as big an attraction as the spawning fish. Tourists, and there were more than we realize today, did not walk the Creek Street boardwalk as they do today!

On Jan. 1, 1917 all of Alaska felt the pinch of the Bone Dry Law, the Territory's introduction to Prohibition some three years before the rest of the nation suffered the same ban on alcohol. By the 1920s Ketchikan's mushrooming fishing industry spurred the city's growth by leaps and bounds and its population of hookers kept pace. Creek Street ignored the Bone Dry law - as did many of the more upright citizens! In 1917 Ketchikan had experience with rum running, home brew, trap doors, and dodging federal agents, experience gained just 20 years earlier, before alcohol was legalized in 1898.

Occasional police raids were made on the Creek at the instigation of the churches and mothers' clubs. It was rumored that police and city officials were getting kickbacks from the girls - accusations that would not be documented for another 30 years. Times were good, and times had changed. The Girls no longer hid their ankles but even showed their knees! they bobbed their hair, they danced and flirted and drank and smoked - and some men began to wonder when the decent town ladies might follow suit. It was frightening. Narcotics were no longer a vice of minorities but were making their appearance on Creek Street and being mentioned publicly.

But in the 1930s, during the Great Depression, the pendulum swung in the opposite direction! The effects of the stock market crash of '29 were late in arriving in Ketchikan but by 1932 the slump had hit hard. Reformers thought this slack time in the prostitution business was a good time to eliminate it altogether. Raids were made and the seasonal Girls were more than willing to head south. Even the year-round Girls, like Dolly Arthur, took lengthy vacations down south. It was optimistically thought in reformer circles that prostitution might just become a thing of the past. But in December 1933 the national ban on beer was lifted, followed by the removal of the ban on hard liquor the following year. And Creek Street would slowly creep back into business!

--

---
Ketchikan had been known up and
down the West Coast for years
as one of the Pacific Coast's
wickedest cities.
---

---

It was not that prostitution depended on liquor sales for its success, although the Girls did make more from booze than they did from tricks. It was that those who held the hammers in city politics approved of controlled and regulated prostitution. Ketchikan had been known up and down the West Coast for years as one of the Pacific Coast's wickedest cities. So it was not that Ketchikan had prostitution, it was that it was operating so openly, with hardly a blink from the city fathers!

And, moral and religious aside, it was good for the economy. The Girls paid cash, they spent lavishly, and they paid their taxes without a whimper. They needed oil and ice and coal delivered, and they needed groceries, health care and clothing, plus luxuries and even newspapers. They tipped like tycoons.

After the start of World War II in 1941, prostitution would come to an abrupt halt. The military saw to that! And the Girls were as patriotic as anyone. In fact, tongue in cheek, they held a "Going out of Business Sale," posting flyers that advertised merchandise in a variety of colors and sizes. Then they were gone and Creek Street was once again quiet and deserted. But at war's end and by 1947 they were openly back in business.

Curiously, it was not an "inciting incident" in Ketchikan that spelled the beginning of the end of prostitution in Ketchikan, but something that was happening back in New York City awhile the second half of the century was edging in! It was graft, vice, corruption and racketeering on New York City's docks! It was so bad in the nation's largest city that serious action was taken nationally, action that would extend to all 48 states and the Territories as well. Ketchikan had docks and it certainly had plenty of social problems, and it too was included in the national sweep.

Ketchikan, along with other U.S. cities, was ordered to call a federal grand jury to make a report on vice and racketeering conditions in their town. That Ketchikan grand jury was called and convened on Oct. 7, 1953. The jurors made a sincere effort to do their duty, but they were hampered by certain court and other officials, and by alleged bullying. Only two days later a bewildered grand jury, having been kept from doing much of anything, was excused and a grand jury report sent in to Juneau's district court. It was a report similar to reports of the past of Ketchikan's long-standing problems: juvenile delinquency, inferior jail conditions, and other minor matters. There apparently were those in Ketchikan who liked their town just the way it was, and portrayed it as such!

But District Court Judge George W. Folta in Juneau reportedly fired the white-washed report right back to Ketchikan and ordered that the grand jury be recalled to "thoroughly investigate into conditions of vice and corruption existing in Ketchikan." The grand jury reconvened Nov. 27 and did so. It began its 25-day series of sessions and eventually heard upwards of 100 witnesses, this time being allowed to hear testimony of citizens strongly opposed to prostitution and civic graft; and to hear a report from the American Social Hygiene Association - a private agency that, after its own undercover investigation, named Ketchikan among cities rated "bad" in relationship to prostitution. The panel of jurors heard about the married police chief's alleged financial involvement in his prostitute girlfriend's business, about the police captain's on-duty drunkenness and his out-of-town property made available to Girls on R&R. The grand jury, which had by then heard of all the shenanigans that had been accepted by a tolerant city government for half a century, made it findings and sent in its report.

It is curious that a grand jury probe that was born in conditions spawned on the docks of New York City thousands of miles away ended Ketchikan's prostitution, police graft, and civic tolerance of such activities. The U.S. Attorney was fired. The police chief and his captain were both charged and convicted for their roles in the situation; they left town. All houses of ill repute were closed. For good. The following spring of 1954 people murmured that they would probably open again. But they didn't. It was over. The city finally found a police chief, the late Chief Hank Miller, who was tough enough to "do the job" right.

Reform movements like the one that closed Creek Street aren't effective without an effective leader. In this case the general of the civic army was Emery Tobin, publisher of the Alaska Sportsman Magazine and owner of the Alaska Specialties shop. He was a small man with a big pistol sitting on his desk throughout the fray, a man with stubborn determination to achieve the reform group's goal. He coordinated with Malcom Roberts of the American Social Hygiene Association. He kept the torch burning until the situation was abated - and resolved, for good.

He suffered any number of personal indignities by those opposed to his undaunted leadership. He persisted in approaching the city council with reform concerns even though he was gaveled down and once saw the council meeting adjourned because he tried to speak. He sued for libel over a published letter that hinted that he had been a bootlegger; that smeared his lonely hearts club ads in the Sportsman; that some of the ads offered crooked dice and cards - and he won. He then went to court accused of breaking child labor laws for hiring a 15-year-old boy to sweep out his offices. Tobin stood firm. And in the end, "his side" prevailed.

It all happened a half-century ago, but it changed Ketchikan forever. Today's police department still reflects the lessons learned back then. City government had remained alertly on its toes since the days of incontrovertible change. And the descendants of the principles in that long-ago battle speak to each other now, even though their parents didn't.


--Contact June...
Post a Comment -------View Comments

Submit an Opinion - Letter

Sitnews
Stories In The News

Copyright © 2002 June Allen
All rights reserved.
Not to be reprinted in any form without the written permission of June Allen.