KETCHIKAN'S MYSTERIOUS PIGEONS: Who knew!
By June Allen
May 21, 2002
Tuesday - 12:30 am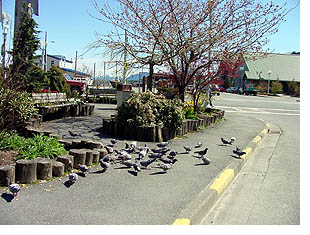 You probably have one of three attitudes toward Ketchikan's pigeon population. You think the little popcorn-begging creatures are a charming addition to Ketchikan's small town charm; you think they are impossible pests for robbing songbird feeders and soiling roofing where they perch; or, you haven't paid all that much attention to them one way or the other.
Yet those waddling, cooing little birds have a venerable past both locally and in the history of the ages. In addition, they are the least-studied of all bird species - a too-familiar bird that doesn't attract generous funding for such study. But there is an organization sponsored by the National Science Foundation that recruits volunteer "citizen scientists" in far flung locations to study local pigeon populations and send their observations to the Cornell Lab's Project Pigeon Watch.
In Ketchikan's pigeon history, in the 1920s along came Roy F. Jones, a notable pioneer among the many in the entwined histories of early Ketchikan families. In addition to being an aviation pioneer, Roy Jones is said to have brought the first pigeons to the little wooden town on Tongass Narrows, a town complete with many wooden docks, a prime location for pigeons to nest on the docks' protective underpinnings.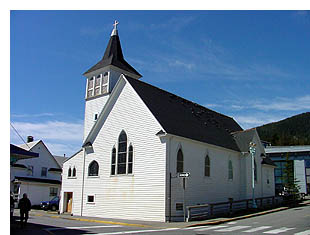 St. Johns' Pigeons
Click on Photo To View The Pigeons On The Roof
---
Jones had first come to Ketchikan while serving as a rod man aboard U.S. Coast & Geodetic vessels in the summers of 1915-16. While in Ketchikan, he was invited to a party hosted by the Forrest J. and Harriet Hunt family. There he met his future wife, Alice Kincaid. She wasone of the two in the first graduating class at Ketchikan High School, Class of 1916. She was the daughter ofd Mr. and Mrs. Sam Kincaid, the builders of the three houses on the creek side of Bawden, across from the old hospital building.
Roy and Alice became engaged while Alice finished college in Reno, Nev. They were married in 1919, after the end of the first World War and moved to Seattle. In March of 1922 Alice gave birth to a daughter, Dorothy. Eight months later the young mother died and Roy took his baby daughter back to Ketchikan to be raised by her grandparents. Then he went south continued toward his goal in aviation and would return just four months later to become a local hero.
There may have been pigeons on Revilla Island before there were people here. Maybe not. Are pigeons included in Native lore or has one ever been carved on a totem pole? The one thing that is known is that the first time anyone took note of pigeons in Ketchikan was after the historic occasion back in July 1922 when pioneer aviator Roy Jones soared over Tongass Narrows and landed his flying boat Northbird on the choppy waters of the town's front yard.
And "flying boat" is the correct term for that flying machine. It had the biplane wings, the open cockpit for pilot and mechanic, engine and all the necessary parts to make it qualify as an airplane - it did, after all, fly rather nicely. What it couldn't be depended on to do quite so nicely was land successfully on Alaska's choppy and sometimes treacherous waters. The body of the flying boat was just that, a modified boat-shaped fuselage that slapped down on the water without benefit of landing gear of any kind.
Why that single aviation event is part of a story about Ketchikan pigeons is this: Ketchikan's own Roy Jones, in his too-brief year as Alaska's very first commercial aviator, introduced and used carrier pigeons in his business!
While radio was in its infancy and growing rapidly in 1922, it certainly hadn't yet entered the field of aviation. The need for communication was satisfied by the use of carrier pigeons - a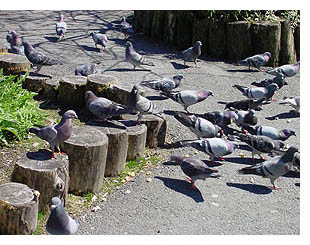 practice widely used in World War I, of which Roy Jones was a veteran pilot. So, when Roy Jones would fly a cannery executive out to Loring, for example, he took a caged carrier pigeon along. Then he could send a message back to Ketchikan with the pigeon, indicating when they'd be back or whatever message was pertinent. Sadly, Roy Jones's crashed his historic Northbird at Heckman Lake the following summer and never managed to put his business back together again. He did stay in Ketchikan at least until 1927-28 when he served on the Ketchikan City Council.
By that time, the nation was beginning to be enthralled with the new fad of raising pigeons! Pigeons have deep homing instincts and could be let free to fly and they would always return to their own roosts. People raised them for racing, for fun, and in a few instances, for food. You've heard of the menu offering "squab"? Squab is the breast of a pigeon hatchling one to 30 days old. One local man has confessed to climbing under the docks with a childhood friend to rob nests. The boys would then take the birds to his friend's mother, who would cook the meat and serve the tasty dishes to the boys.

If you've ever watched old 1930's movies of the Dead End Kids - they're sometimes shown on the classic movie TV channels - you probably learned a bit about raising pigeons, even on the rooftops of tenements in New York's Hell's Kitchen. Wasn't it the Dead End Kid Frankie, the "good" kid of the hell-raising bunch, who kept pigeons? In Ketchikan it was the much tamer kid Johnny Stenford (now the retired pharmacist) who was among the first to raise pigeons in Ketchikan. He cheerfully admits his complicity in the proliferation of the town's pigeon population.
Pigeons are fascinating birds! They were kept for carrying messages in ancient Egypt. The Roman army, and especially Caesar, used them to carry messages of victory back to Rome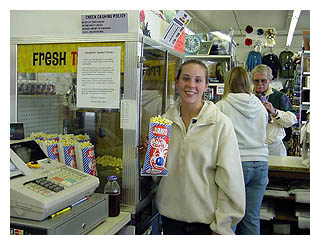 Kayla Marshall - Class of 2002:
Five & Dime Popcorn
---

from the battlefields of Gaul. When the telegraph took over the role of message delivery in the 1830s, pigeon owners took up the sport of pigeon racing. Those little birds, so awkward on foot, can fly 40 - 50 miles per hour! They are still used in certain search and rescue operations, their keen eyes trained to spot the orange life jackets of victims of accidents at sea. But little is yet known of their color variations, how they choose their mates, and other factors.

Anyone interested in the topic of pigeon study, adult or responsible child, can learn more about the Cornell Lab "citizen scientist" project by clicking on Project Pigeon Watch. It might be fun.

So the next time you see pigeons strutting along Mission Street - as near as possible to the Five and Dime's popcorn machine, or notice a flock of them roosting on some roof, or if you notice the propellor from Roy Jones's old airplane, which is displayed at the Ketchikan International Airport, stop a moment and think about Ketchikan's history - s and how each fragment of the fabric of Ketchikan's story contributes to the huge tapestry of the town we love.

--Contact June...
Digital Photos by Gigi Pilcher
Post a Comment -------View Comments

Submit an Opinion - Letter

Sitnews
Stories In The News

Copyright © 2002 June Allen
All rights reserved.
Not to be reprinted in any form without the written permission of June Allen.