RADIO's STORY: from olden to golden days
By June Allen
May 12, 2002
Sunday- 12:15 am

If there's one thing that sets one community apart from others it's community spirit! And early day Ketchikan, incorporated 1900, had more than its share. This was no backwater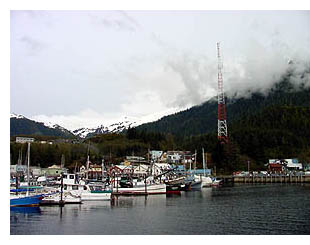 town content to settle into its remoteness and ignore what was happening in the world down south. From the beginning, the citizens of the little isolated hamlet on Revilla Island could boast of their accomplishments. Ketchikan had its own electricity by 1903 while even some major U.S. cities would still be gas-lighted for another decade. The town boasted telephone service at least by 1909. If it was new, Ketchikan would check it out.
And then in the early to mid-'20s along came the latest marvel - radio! The concept of wireless, of sound bouncing off the stratosphere was not hard to accept. The town had had a Marconi radio tower for almost two decades by the time of the local radio craze. But this was different! This was a kind of radio that meant a receiver set as a piece of furniture in every home. Think of it. The news, weather and music! That was the strongest draw of radio even nationwide - music.
Ketchikan can boast having the second radio station in all of Alaska, KGBU! Only Fairbanks beat it to the draw with its station WLAY.
Of course, it wasn't much compared to today's radio. If anyone remembers any programming from that first year of KGBU, that memory is still to be discovered. The license was granted to a Roy R. Thornton (any descendants left?) and went on the air at the end of July 1926. The station was located at Sunset Manor, described on the licensing document as a "tree-surrounded hilltop site overlooking Ketchikan." KGBU's T-type antenna was supported by two 30-foot poles. Thornton incorporated in October of that year and the license then reflected ownership as the Alaska Radio and Service Co.
What and where was Sunset Manor? The building was a blind pig, which translates to speakeasy, or, a place during Prohibition years serving illegal liquor. "Blind pig" is one of those expressions hard to understand, although Mason jars or certain bottles were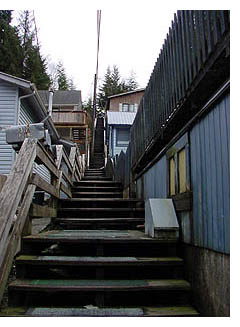 sometimes called pigs - for whatever obscure reason. One oldtimers said Sunset Manor was out at Wards Cove, although that may have been later. Anyway, it's probably safe to say after all these years that a gentleman named Dick Apse is said to have owned Sunset Manor.
In any event, in the following spring of 1927, the KGBU license was transferred to a Miss Bobbi Wade, described as "an organist at a Ketchikan movie house." That must mean that she played accompaniment for silent films at the Gross Alaska Coliseum Theater, because that was the town's only movie house with an organ. Miss Wade installed her friend Jimmy Britton as engineer/operator/manager of the radio station. Then she went south to Portland for education in radio operations, or maybe it was to raise money. When she returned, she married Britton. The original owner, Roy Thornton, would retain a part-interest in the business until about 1935.
Few remembered Bobbi Britton. But just about everyone remembered Jimmy Britton. He was described as a man of generous proportions who owned a dog that looked a great deal like him. He regularly walked the dog, which seemed to be towing Jimmy in his wake. The man lacked what today would be called a "radio voice," however. One oldtimer described it this way. "I think he had asthma. He breathed real heavy into the microphone. Sounded like he couldn't get any air. But we didn't care! Everybody had a radio or knew someone who did and we wanted to hear every word!"
The oldtimer also said that local radio was just part of the fascination. Listeners soon discovered that late at night they could use their sets to tune in stations from as far away as San Francisco and even get Calgary, Canada, where they could hear the latest in cowboy music, a favorite after everybody's favorite - Bing Crosby. It was static-y but it was music! He said he and his friends would stay up late and collect station call letters as a sort of hobby, to be boasted about the next day.
The KGBU studio by May of 1927 was located on Upland Way, that stairway street that startson Park Avenue and ends up on the hillside above today's library-museum complex. The station was apparently still operating at 1310 KC, 500 W. While not mentioned in the document, the transmitter was probably up there too. Programming was not what it is today. The station was on the air only from about 5 p.m. to 10 p.m. and consisted of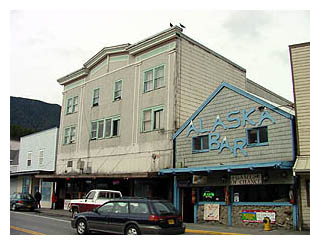 Britton reading some national sports scores which he picked up at the telegraph office on Front Street, local sports scores, salmon and halibut landings, and then music was played via phonograph records.
In January 1928 KGBU had new quarters at 335 Front St., across the street from the Gilmore Hotel and was operating at 750KC, 500W. The transmitter had been moved to the top of the Nelson (now Pioneer) Hotel.
KGBU continued operations under the Brittons, the station and transmitter locations changing from time to time. The couple apparently managed to cope with the early years of the Depression, an economic downturn that hit Ketchikan with force by 1932. In February of that year KGBU temporarily reduced power to 100 W. The transmitter and new towers went up at Mile Five Wards Cove Road, but the studio remained at 335 Front St. There were other changes and moves. And then in 1934 the station received permission to be on the air for unlimited hours.
A milestone was marked in 1937 when the KGBU building was constructed at Stedman and East Streets - today's KTKN building. Although KGBU had been licensed for full-time broadcasting, it was still operating on part-time hours. The whole era from 1935 to 194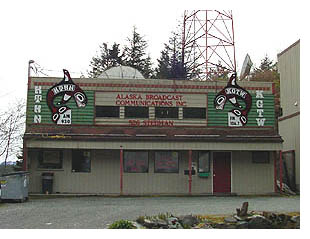 2 is clouded with licensing and operation confusion. Much of it may have been caused by the fact that the federal government was taking closer and closer interest in radio stations as war clouds drew nearer and nearer to the west coasts of the United States and its Territory of Alaska - so close geographically to Japanese naval interests in the North Pacific.
At any event, after Pearl Harbor was attacked by the Japanese and the U.S. declared war, the Brittons - for whatever reason - failed to apply for a new license. Their license expired on April 1, 1942, and was deleted August 1. Juneau's KINY owner E.A. Kraft applied for a new license at Ketchikan to utilize the KGBU facilities. It was granted. The KGBU building was renamed the KTKN building. Kraft's unusually swift acquisition of the facilities may have been due to wartime. The Board of War Communication document of July 15, 1942, states, in part:
"The national security and defense and the successful conduct of the war demand that all non-military stations and facilities for radio or wire communication in the Territory of Alaska shall be subject to use, control, supervision, inspection or closure by the Department of War."
The document was issued just a month after the Japanese attack on Dutch Harbor and Alaska's involvement as a theater of war in World War II. (And that is another whole story.)
After the war and for a number of years the station, its owners, its managers and its affiliation with networks changed as quickly as times were changing. Television was right around the corner, a medium that threatened both radio and movies, necessitating revision of operation and focus of those two older media favorites of the public.
But there were radio's never-forgotten Golden Years, the years of Jack Benny, Eddy Cantor, Milton Berle, Fibber McGee and Molly, The Great Gildersleeve, Aby's Irish Rose, and so many others. There were also the after-school programs for kids, the 15-minute segments of Jack Armstrong the All American Boy, Little Orphan Annie, the ever-popular Red Ryder and others, and all their boxtop offers of decoder rings and other treasures.
And no one will forget the 15-minute morning and afternoon soap operas - The Guiding Light, As the World Turns, Backstage Wife, Helen Trent (Can a woman find love after 35?), Our Gal Sunday (Can a little girl from a mining camp in Colorado find happiness with a titled English lord?) and so many others, including Ma Perkins.
One Ketchikan oldtimer's memory is hard to forget. "I was laid up in bed for a week or two with a cracked rib and had to hear those soap operas. You know that one about Ma Perkins and her sidekick Shuffle who run the old girl's lumber yard? Well, I listened to that every day, and y'know, all they did was talk. They never sold one damn two-by-four or shingle that whole time."

--Contact June...
Photos by Gigi Pilcher
Photo 1 - Tower
Photo 2 - Upland Way (stairway street)
Photo 3 - Pioneer Hotel
Photo 4 - KTKN - KGTW
Post a Comment -------View Comments

Submit an Opinion - Letter

Sitnews
Stories In The News

Copyright © 2002 June Allen
All rights reserved.
Not to be reprinted in any form without the written permission of June Allen.