DOLLY ARTHUR: now Ketchikan's poster girl
By June Allen
May 07, 2002
Tuesday - 12:30 am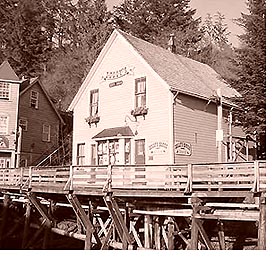 Dolly Arthur, nee Thelma Copeland of rural Idaho mining country, was a Ketchikan resident from 1919 until her death in July 1975. She is probably Ketchikan's most famous person today. She lies at peace in plot 4949 in Bayview Cemetery with men, strangers, buried next to her on either side. She would like that. Dolly said her attraction for men was one of her best traits. "I just liked men and they liked me, too!"
Her house on Creek Street is now a museum visited by thousands of tourists every summer. In her lifetime, however, there was nothing much to distinguish it from other small houses of ill repute along the boardwalk. There was always a temporary look to those little rain-scoured houses tottering atop piling, whose residents used the cleansing tides to serve as sewer, plus bottle (and occasionally body) disposal.
Dolly's house, however, was not only her business but also her longtime home. Her claim to present fame was simply because of the more than 50 years she spent on Creek Street. She bought the house in 1919 and was still living there, alone, in the early '70s. She became the last of the former ladies of the line to remain in residence on the creek until her death, which was 20 years after the red-light district was finally closed for good in 1954.
Dolly was not a whore, and would be horrified to be called that. Dolly called herself a "sporting woman," a distinction that was important to her. More than once she said, "I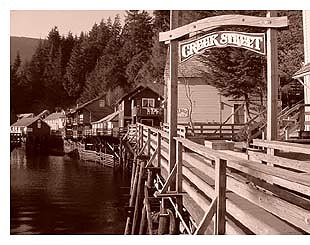 never could stand a whore!" She thought they were tasteless and crude. She considered herself of a higher class. And while most of the girls worked and lived in pairs in the small creekside houses, Dolly always worked alone - except for her first year in Ketchikan when she worked at Black Mary's Star dance hall. And there were, of course, the postwar years when her true love, Lefty, shared her home, bed and board, but that was at her convenience and business schedule and between the couple's zesty spats.
Posed photographs show her as a pretty woman, a big woman - a feminine shape and substance in vogue when she was a blossoming young woman near the turn of the 20th century. As she aged, she was sometimes called Big Dolly. One man described her in her later years as almost silly looking, sporting tightly rolled blonde curls surrounding an aging and too-well powdered face with a painted, bright red cupid's bow of a mouth.
She was also known for her temper and a vocabulary that could put a sailor to shame. And yet paperboys, repairmen and delivery men all liked her; she paid her bills, on time, and in cash - with a tip. And she never lacked for gentlemen visitors - well into her retirement years! Bear in mind that sporting women were available just for conversation, with drinks, of course. And some of the girls are said to have made as much or more from selling drinks than from turning tricks.
I met Dolly just once, about three years before her death, to do an interview with her for a book to be published by John Grainger. When we visited, I was too owl-eyed, fascinated - and too young then - to appreciate what I saw - the deplorable condition of an elderly, ill and almost totally blind woman living alone at that time in that place. She had to climb up her stairs on her hands and knees! Thank heaven for Grainger, who kept an eye on her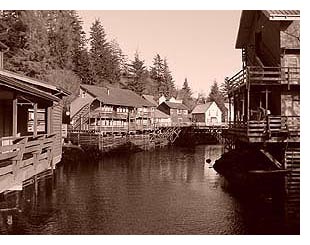 and brought her necessities and a continuous supply of hot chocolate mix, about the only thing she would eat or drink then. She probably wouldn't have tolerated any other assistance, she was much too proud.
Grainger, my husband-at-the-time and I entered her house through the front door on the left. The stairs are right there and we climbed the narrow wooden steps to the second floor where Dolly was waiting for us. I suspect that before Dolly bought the house, that door led to a separate upstairs "apartment" for a second tenant. But Dolly had made it into one rather roomy and comfortable, for the era, home.
Many people seem to think that all brothels were furnished in the lavish style of those San Francisco pleasure palaces featured in movies in which prostitutes are decked out in fur-trimmed velvet and gentlemen callers wear frockcoats and dancing slippers a la Rhett Butler. Not so in Ketchikan! Rowdy bunches of Creek Street patrons wore diesel- and fish-scented wool gear and were shod in boots well flecked with fish scales. They came from the halibut schooners and salmon boats that crowded the length and breadth of the town's docks and harbors.
Dolly's house, like others on the Creek, reflected that concern. The floors were linoleum, the furniture sturdy. Two rooms across the front of the second floor had at some time been made into one, the dividing wall removed and the ceiling as well - in a sort of unintentional cathedral style. The most recent flowered wallpaper reached not quite as far up as the layer of a similar pattern of blooms underneath. A small closet featured a large nail that served as a handle for a booze cache hidden in the wall. Her bedroom furniture was heavy and no doubt elegant in its era - a gift from a gentlemen in Petersburg, she said. Dolly reclined atop her practical chenille bedspread, a bedlamp covered in tattered crimson velvet fastened to the headboard behind her.
She did not look like a Big Dolly to me. She looked small, a white-haired woman wearing what would have been called a housedress in her day. On her lower leg a sanitary napkin had been tied neatly around a sore that would not heal. She lay, propped on her pillows,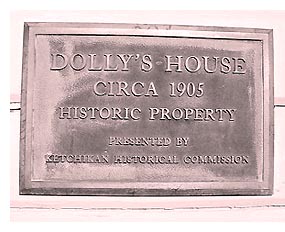 and waited for the questions to start. She looked lonely, and she was. All her life her little dogs had been her passion. Now she could no longer care for them and they were gone. But they remained in a sense. The perimeter of every room in the house was thick with a wide band of doghair fluff, and the smell of their urine hung over each room.
Later, with her permission we would tour the downstairs. We saw what had been the original first floor bedroom where she kept her beautiful needlework, "good" dishes and other treasures. In her kitchen was the stove and remains of a once much-used room. In the hallway was the tiny restroom with the water tank with a side removed to serve as a urinal for her guests, a convenience she filled with ice before they arrived. The entry hall also held the thick, padlocked drawer in which she kept her money. The living room was like the rest of her house, floored with linoleum, furnished simply - except for one beaded lampshade - and long-unused.
Upstairs again, when we said our good-byes to her, my then-husband spoke, in his mellifluous baritone, his very first words during the visit, "Good-bye, and thank you." Dolly's surprised but blind eyes darted to the corner where he stood. She half sat up and fiddled in the neck of her dress for her keys. She smiled brightly and held them out on their string, jingling. "If you feel like a visit, just call up from down on the boardwalk and I'll throw the keys out the window down to you!"
That was just Dolly.



--Contact June...
Photos by Gigi Pilcher...
Post a Comment -------View Comments

Submit an Opinion - Letter

Sitnews
Stories In The News

Copyright © 2002 June Allen
All rights reserved.
Not to be reprinted in any form without the written permission of June Allen.