A Wealth Of History - Bayview Cemetery
By June Allen
April 13, 2002
Saturday - 6:20 pm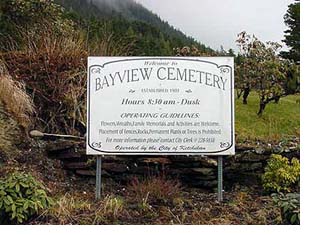 There are longtime Ketchikan residents as well as newcomers who have never visited Bayview Cemetery. There it is right at the south edge of the city, a silent and serene expanse on a lower slope of Deer Mountain with a sweeping view of Tongass Narrows and the islands beyond. On a spring day it blooms with flowers and glows green in the morning light - even if it's raining. Birds soar overhead and one of the island's small deer or two may be seen munching contentedly on clover even in the presence of visitors.
Even if you've never been there before and may never visit it again, do go up on May 27, Memorial Day, to see the graves of veterans decorated with American flags. In the center of the cemetery is a flagpole where brief annual ceremonies honor those who served their country. If you've never attended one of the ceremonies before, you'll be startled by the vast number of flags. But on any day you can stroll along the narrow paved paths or tromp through the grass for closeup looks at gravestones. It's worth the effort. But do wear good sturdy shoes, because the rain-soaked ground can be lumpy and uneven.
Closest to the flagpole are the graves of some of the founders and many of the city's pioneers. First-mayor Mike Martin, who arrived about 1887 and died in 1916, lies under a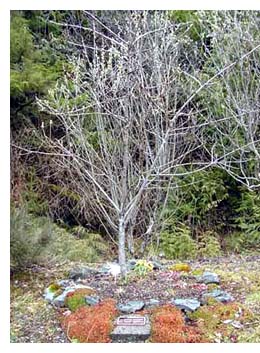 sturdy block topped by a cross just beyond the flagpole, right at the edge of the pavement. You'll notice that Martin's first name, Michael, is misspelled, an error that may have happened because of penmanship in the ordering of the stone or because the carver made a mistake. That was not uncommon. But because the gravestones had to be ordered, shipped up by boat and - if there was a misspelling - returned for correction in the same long drawn-out way, mistakes may have just been tolerated.
Nearby are the stones or plaques of people who came to Ketchikan at the turn of the 20th century when the city was little more than a cluster of wooden buildings and shacks hugging the shoreline and where businesses perched on piling driven into tideland and clomping horses pulled dray carts of freight or coal over plank streets. Then as now stairways accessed hillside homes.
Since the first burial at Bayview Cemetery on Dec. 7, 1911, some 5,000 names have been registered in the cemetery's records. In the 91 years since, regardless of race or religion, no one has ever been denied burial in Bayview Cemetery. And you can sense a faint outline of the history of the community in the headstones not only of the veterans of several wars but of the victims of the 1918 flu epidemic, and the graves of the Aleuts who didn't survive the unfamiliar forest environment of the Ward Cove internment camp during the early years of World War II.
Bayview wasn't the town's first burial ground. There is one grave at Bayview that dates back to 1910. That was a man named John Thomas who was buried in 1910 in the graveyard on the north end of Pennock Island but whose casket was later exhumed and reburied at Bayview in September of 1912. The other names on the two dozen or so graves able to be identified at that historic old Pennock graveyard seem to indicate it was the final resting
place of members of the Kyan family. The earliest readable Kyan marker is from January 1895.
At the beginning of Ketchikan, in those 20 or so years before Bayview Cemetery was opened, the bodies of the deceased were generally transported south by steamship to next of kin. But there were the occasional deaths of those with no family, a few who were buried in unmarked graves in the north Pennock graveyard. From jotted notes in records of that period it appeared that those deaths were caused by mine or logging accidents, drowning and, in some cases, alcoholism - not unusual in a frontier town.
When New England Fish Co. came to Ketchikan, about 1908, the wooden street that is today's Stedman had to be extended to allow foot traffic and local purchases access to the new cold storage. That also opened up access to the gentle hillside above it - which became Bayview Cemetery. In the early days, the Catholic Church, the Pioneers of Alaska, the Masons and other fraternal organizations and the American Legion after its founding in 1919 took on the responsibility for various cemetery sections. Members arranged for burials, dug the graves, kept their sections neat and trimmed

Each organization also kept handwritten records. With records being kept in more than one place, it is no surprise that there are errors or omissions created in such a manner. Today, in carefully documented city records, there are some plots that have known burials but no information on the occupant. There are other occupied plots without dates. The present city records in a couple of instances show one person buried in two different plots, based on that old information. It is not easy to change city records ­ with good reason, the city clerk requires solid, documented information to do so. So some errors too old to correct will probably always be with us.
A former cemetery sexton told of an incident or two in which a plot supposed to be empty turned out to have an occupant after all. It shouldn't be surprising because this is an old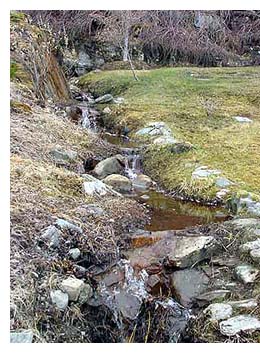 cemetery, almost a century old, the only one for Ketchikan, and still in regular use.
But we can forgive those folk from the early days and be grateful that they kept any record at all! And they, too, were the ones who organized the funeral processions through town for their friends, the marching brass band tootling a comrade to his final rest, the toasts raised to a friend and the genuine mourning at a passing.
Ketchikan's Bayview Cemetery can be considered unique. A glance at the rock-cut that backs Tatsuda's parking lot and a look up at the depth of soil supporting the vegetation growing on it gives you an idea of how shallow this island's topsoil is! The soil at the cemetery is deeper than that, but not a lot. So soil has to be hauled in to provide depth. When available plots are nearly filled, new sections are opened by precision dynamite blasting. Rock is hauled out and soil moved in.
In one instance, a graveyard expansion project discovered a sizable expanse of sand, maybe an ancient creek bed or something. This sand was dug out, hauled to the city's ballfield by City Park. Then the rainy-day muddy soil of the infield and outfield was hauled back to the cemetery. Now that's recycling at its best!
I don't know when the city took over the cemetery. I never asked because it never seemed important to me. I'm glad the city keeps records now and provides a caretaker to dig graves, mow the grass and keep an eye on things that need to be done. But actually, it's the people of the town who are, and should be, responsible for keeping intact and functioning the community's regard and respect for its only cemetery. Various organizations and individuals donate bulbs and bedding plants and flowering shrubs. A family sometimes donates an ornamental tree. There are those who keep an eye on the flower beds in need of weeding.

Because that's the spirit of Ketchikan!


--Contact June...
Digital photos by Gigi Pilcher.
Post a Comment -------View Comments

Submit an Opinion - Letter

Sitnews
Stories In The News

Copyright © 2002 June Allen
All rights reserved.
Not to be reprinted in any form without the written permission of June Allen.