Compliments to Your Health #11
Networking Toward Better Health
by Joann Flora,
Acupressure, Nutrition Counseling, Qigong
March 06, 2003
Thursday - 12:25 pm

This winter has offered many options for seeking ways to improve health. We've had tremendous opportunities to explore the resources of our little town and find choices for healthful living that we may not have known about. Sometimes these events are organized for us. Other times, it's up to us to seek them out. Good health involves taking care of the physical body through nutrition, body work, and exercise, as well as caring for the spirit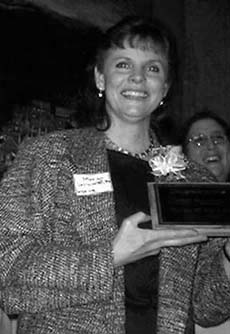 Margo Schwankl Named
Ketchikan's Nurse of the Year
Photo courtesy
Ketchikan Nurses' Association
Read more...

through energy work, meditation, and stress management.

January gave us New Year, New You, a first time event sponsored by Parks and Recreation. It was aimed at women and presented a variety of products and activities designed to help us feel better about ourselves. Local salons brought in skin care products, gave demonstrations on hand waxing, and chair massages were available. Gym fitness was represented, as was diet and nutrition. Attendees could also get information on yoga, acupressure, qigong, and acupuncture. The body, mind, and spirit was covered. A very nice aspect of this event was that the organizers specifically requested that presenters avoid any products with high aroma values. The air was clean and clear, with no conflicting barrage of scents to aggravate allergies.

In February, the Nurses threw themselves a retreat. Though this event was not open to the general public, members of the complimentary health care community were invited to participate. The nurses had facials and make-up demonstrations, received massages and acupressure sessions. They took a yoga class, stretched, and practiced qigong. How does an event like this benefit the public at large? First, it provided an opportunity for a very over worked and largely under-appreciated group of health care professionals to pamper themselves and have a mini-vacation. They had a banquet and recognized the Nurse of the Year. It was like a 'company picnic'. Second, this group of workers from the mainstream medicine community were exposed to treatment and recreation options that they could see as being of benefit to their patients. Some were introduced for the first time to healing arts they could suggest to others as a means to reduce stress or facilitate healing. Third, they saw ways to apply these healing techniques to their own lives. Whenever any of us reduce our personal stress and promote our own healing, we are more effective workers. I believe this is especially important for anyone in the health care field.

March is a busy month if you're interested in healthful living. It began with the Fundamentals of Self Acupressure, presented by UAS. This eight hour class gave the students tools for working proactively on their health and the health of their families through a release pattern they could do easily on themselves. They received a book with charts and descriptions of the release that they could use for reference. They also learned short, to the point patterns for specific and immediate relief. UAS also brings us the Women's Wellness Conference, on March 7th and 8th. This two day event is open to the public and is a broad approach to health and healing. It is a body, mind, spirit approach to total wellness. Participants will receive allopathic medical information on menopause and heart health. They will actively participate in the Asian healing arts of qigong and acupressure. Yoga will be available as a workshop and a Personal Time choice. Other workshops include massage, friendships, journaling, cooking, stress-less living, and more. The Friday night keynote speaker is Millie Stultz, who has worked in the health care field for 35 years. The month concludes on the 29th with a Chi-Lel Qigong Retreat at Yoga Haven. This full day of qigong is designed with both the beginner and experienced chi-camper in mind. It is appropriate for men, women, and children, and is an excellent family activity. It will explore a variety of forms for exchanging chi between the self and the universe (replenishing and restoring chi), drawing the chi into the joints (reducing pain, rehabilitating injury, increasing flexibility), and circulating chi within the body (contacting the Dantien). The focus of Chi-Lel is to strengthen the body, eliminate illnesses, prolong life, increase flexibility, and improve quality of life. Everyone will come away with something that is immediately usable in their every day life.

April 12th gives us two things to conflict over: the Alaskans For Drug Free Youth Conference presented by Ketchikan General Hospital's Prevention Services, and the Parks and Recreation Sports and Recreation Expo at the Plaza. The ADFY Conference runs from noon on the 12th to noon on the 13th and is an overnight event. Its focus of healthy alternatives to alcohol and drugs includes an Anti-Drug Rap Contest, No Talent Talent Show, workshops, and a keynote speaker. The conference reinforces the benefits of life without mind-altering chemicals. The S/R Expo is a great way to see what kind of activities are available to local residents. The emphasis of sports and recreation will gather a wide variety of vendors with ideas for keeping the body healthy as well as the mind. OK, guys, this one's really for you! When the body is moving, circulation increases, and that sends more oxygen to the brain! Good health is just as much about how we recreate as how we eat. Please don't let the date conflict with these two events prevent your family's participation in either. The kids can see the Expo from noon to 5 pm on Sunday the 13th and still participate in the ADFY Conference on the 12th.

Who says there's nothing to do in Ketchikan? You can stay healthy all winter, and the next thing you know, it's May: Derby Time!

E-mail Joann Flora
©Compliments To Your Health
Joann Flora 2003


Post a Comment -------View Comments

Submit an Opinion - Letter

Sitnews
Stories In The News