Compliments to Your Health
Chinese New Year: HAPPY 4701
THE YEAR OF THE MONKEY!
by Joann Flora,
Acupressure, Nutrition Counseling, Qigong
January 15, 2004
Thursday - 12:50 am

January 22nd, begins the 15 day celebration of Chinese New Year. You may enjoy participating in this unique event designed to get us off on the right foot for the new year.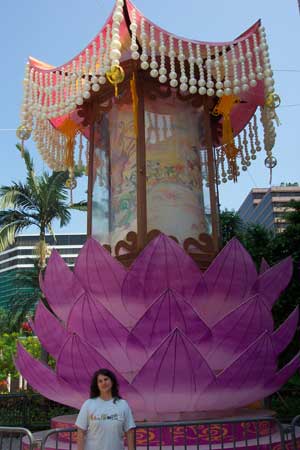 Joann Flora at the Hong Kong Cultural Center
November 2003
Photo courtesy Joann Flora

Even in the west, we can benefit from this ancient tradition. Preparation, the Festival, and Superstitions are the three components of the Chinese New Year Celebration.

PREPARATION

Clean the house before New Year's Day and put all cleaning supplies and equipment out of sight. Do not clean on New Year's Day lest your good fortune be swept away. You can sweep on Day 2 if needed. Sweep inward from the corners to the center of the room and place the debris in the corners. Don't walk through your sweepings! On Day 5, remove the trash through the back door. Using the front door to remove trash puts you at risk of sweeping away the household's good fortune. Sweeping dirt out the front door can cause you sweep a family member away!

Decorate your house with fruit. Tangerines and oranges symbolize abundant happiness; with leaves intact they assure that your relationships with others will remain intact. Blooming flowers and plants symbolize rebirth and new growth. Place signs on your wall of red paper with happy wishes (EX: May You Enjoy Long Life & Happiness). Platters of candy arranged in a circle or octagon, a Tray of Togetherness, symbolize the new year's fortune: coconut for togetherness; candied melon for growth and good health; melon seed dyed red for joy, happiness, truth, and sincerity; peanuts for long life; cumquat for prosperity; lychee nut for strong family

Wash your hair on New Year's Eve as this is to be avoided on New Year's Day, lest it wash away your good luck for the year.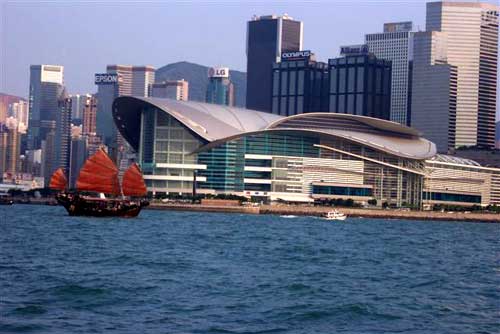 Across time. A working junk & the Cultural Center.
Photo courtesy Joann Flora
THE FESTIVAL
Day 1: Jan 22
At midnight, open all the doors and windows to let out the old year. Set off firecrackers to send the old year on its way and welcome in the the new. Greet the new year by welcoming the gods of heaven and earth! Avoid eating meat on this day to ensure you have a long and happy life. Also avoid white foods as white is an unlucky color signifying death and misfortune. Traditional foods include uncut noodles to represent long long life, lotus seed (for many male offspring), ginkgo nuts (represents silver ingots), black moss seaweed (for wealth), dried bean curd (for fulfillment of wealth and happiness), bamboo shoots (wishing that everything should be well). Although you will emphasize vegetarian foods that are fibrous and root based, you may include whole fish to symbolize togetherness and abundance, or chicken served with the head, feet, and tail to symbolize completeness.

Day 2: Jan 23
Pray to your higher power(s) and your ancestors. Be extra kind to dogs and feed them well as the second day of the new year is the Birthday of All Dogs.

Day 3 & 4: Jan 24 & 25
Sons-in-law pay respect to their parents-in-law on these days.

Day 5: Jan 26
Stay home! This is the day we welcome the God of Wealth. Do not visit anyone or receive visitors as you will both receive bad luck. Carry out the sweepings from the corners, using the back door only.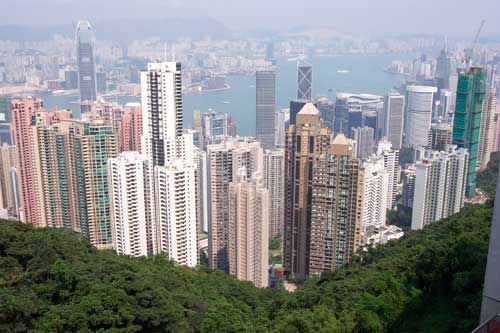 Note the building wrapped in green net on the right. The scaffolding is made of bamboo!
Photo courtesy Joann Flora


Day 6-10: Jan 27-31
Visit everyone on these days, especially your temple (house of worship) and pray for good health and good fortune.

Day 7: Jan 28
If you farm, use this day to display your produce and make raw vegetable juice from seven different veggies. This is also the birthday of human beings. Eat long, uncut noodles to promote longevity and raw fish for success!

Day 8: Jan 29
A large family dinner is in order!

Day 9: Jan 30
Make your offerings to the Jade Emperor. See more about the Emporer on Day 15.

Day 10-12: Jan 31-Feb 2
Invite your friends and relatives to dinner!

Day 13: Feb 3
Cleanse your system after so much feasting with a day of mustard greens and a thin rice gruel (congee). Make congee a day ahead by cooking down left over rice till it is soupy. See www.inmamaskitchen.com <http://www.inmamaskitchen.com> for recipes. Simple garnishes may include chives or dried fish.

Day 14: Feb 4
Prepare for the Lantern Festival! Make your lanterns, prepare food, organize your parade or dance.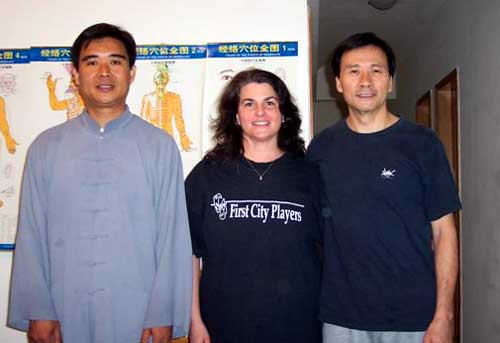 Joann with Masters Yang Lao-Shi and Chan Lao-Shi. Lao-Shi
is a term of respect meaning 'the teacher'.
Photo courtesy Joann Flora

Day 15: Feb 5
The Lantern Festival is the conclusion of the 15 day celebration. This festival is over 2000 years old dating back to the Ming Dynasty. Legend says that the Jade Emporer in Heaven (remember him from Day 9?) planned to destroy a village with fire as punishment for killing his favorite goose. A good fairy told the people to light lanterns so it looked as though the town was on fire. The Emporer looked down from heaven, saw the blaze and was satisfied that his goose had been avenged. Tradition has us re-enact this night by making paper lanterns in round and animal shapes that are displayed and carried around. Parades, dances, and feasts are part of this tradition. Rice balls with varietal fillings cooked in red bean soup are part of the menu. Round foods symbolize wholeness and unity.

SUPERSTITIONS
Red clothing is considered festive and sure to bring the wearer a sunny and bright future. Your appearance during the new year sets the tone for the rest of the year. Children and unmarried friends receive gifts of red envelopes containing $1 bills for good fortune. Do not use knives or scissors on New Year's day as this may cut off your fortune. The first person you meet on this day and the first words you hear set your fortunes for the entire year. It is lucky to see and hear song birds and red birds. Pay off your debts and don't loan any money. If you loan money on the New Year, you will be loaning money throughout the entire year. Foul language should be avoided as well as references to the past year. Don't tell ghost stories or speak of death or dying. If you cry on New year's Day, you will cry all through the year!

Enjoy the celebration! May Love and qi be with you all year!

E-mail Joann Flora
©Compliments To Your Health
Joann Flora 2003


Post a Comment -------View Comments

Submit an Opinion - Letter

Sitnews
Stories In The News