Grand Opening of New Ketchikan Regional Youth Facility
March 11, 2002
Monday - 12:45 pm
Last Updated Mon. 5:20 pm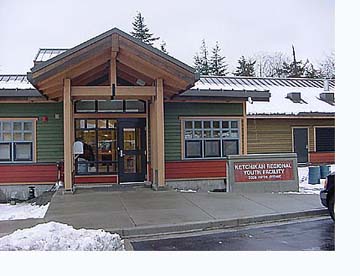 Lt. Governor Fran Ulmer joined others in Ketchikan this morning to celebrate the opening of the new Ketchikan Regional Youth Facility. The grand opening celebration marked years of planning and collaboration between state and local governments.
"I know how much this facility means to the City and Borough of Ketchikan," Ulmer said in a release last Thursday. "It is also an important facility for Southeast Alaska because it means we can begin to help young people in trouble right away and close to home."

The youth facility, to be operated by the Alaska Division of Juvenile Justice, provides both secure detention for youth who break the law and short-term crisis respite and stabilization for youth with serious emotional disturbances.
"Until now, young people who were arrested in Ketchikan were sent elsewhere to await judgement on their cases," Ulmer said. "Now they can be detained at the Ketchikan Youth Facility and we can immediately begin the process of restorative justice. Families can even get involved, which is another advantage."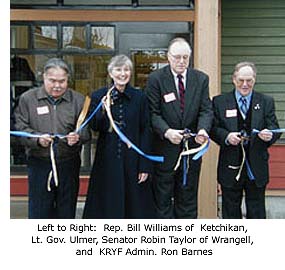 In addition to providing secure confinement for young people who have been arrested for criminal charges and other violations, the facility will also offer a safe environment for youth with serious emotional disturbances who require short term stabilization and assessment services. Facility staff will include a mental health clinician who will work closely with local mental health providers to ensure continuity of care and to effectively plan for each youth's return to the community.
"This combination of services in one building is unique for Alaska and innovative for youth facilities across the country," said George Buhite, Director of the Division of Alaska Juvenile Justice. "This facility enables program staff to meet the needs of residents who require both detention for criminal activity and crisis respite for mental illness, while reducing the administrative needs two facilities would require."
The facility was designed by the architectural firms of ECI/Hyer, Inc. of Anchorage and Millard & Peters of Ketchikan.
In a news release obtained today, the grand opening ceremony began at 10:00 am at the facility's front entrance, 3058 Fifth Street, adjacent to the Ketchikan Public Health Center. Jim Voetberg, Assistant City Manager for Ketchikan, was scheduled to serve as Master of Ceremonies. Mayor Bob Weinstein and Senator Robin Taylor were also scheduled to join the Lt. Governor at the podium.
Monday afternoon, Lt. Governor Ulmer invited the Borough Mayor and Assembly to meet with her at 2:00 p.m. in the City Council Chambers. There was no agenda for this informal, drop-in gathering. The Managers of the City of Ketchikan and Borough along with the Saxman administrator and the Ketchikan City Mayor and Council and the City of Saxman Mayor and Council Members were also invited to attend. This meeting was open to the public.
Related Information:
Source of News Release:
Office of the Lt. Governor
Web Site
Digital photos by Dick Kauffman.
Digital photo of ribbon cutting provided by Lt. Governor's office.
Post a Comment -------View Comments 

      Submit an Opinion - Letter

Sitnews
Stories In The News